November 28th, 2011 by stephanie
Know much about Advent? If not, don't worry. You're not alone. But if you do, know that we will be focusing on Advent during the coming days.
So, just what is Advent anyway? You might have seen or even used one of those clever Advent calendars. You know the ones. Where a door is opened each day in December and a surprise awaits you behind it.
But for the church as a whole, Advent used to be the beginning of the Church Year for most Christians in Western civilization. It begins on the fourth Sunday before Christmas Day, (the Sunday after Thanksgiving), and ends on Christmas Eve (Dec 24).
Advent has colors too. I have an Advent wreathe in my house. Yesterday, the 1st Sunday of Advent, those of us who follow this tradition lit the first candle in our advent wreathes. (There are four candles in those wreathes by the way.) Three are purple. One is pink You light one candle each Sunday. This past Sunday's candle was called the candle of HOPE. I'll tell you more about the 4th candle and the Christ candle in time.
The word Advent means "coming" or "arrival." The focus of the entire season is to be on the celebration of the birth of Jesus, the Christ – his first Advent – and the anticipation of the return of Christ the King in his Second Advent.
Basically, it is about anticipation. Anticipation of the coming King. The Anointed One. The Messiah. And the hope He would bring. To Christians, that Hope is the assurance of eternal life.
Light a candle this week won't you? And be reminded: He has come.
Just my thoughts.
S.
November 23rd, 2011 by stephanie
While the Pilgrims (originally from Notingham) now in Scrooby, were learning to survive in Holland, other settlers from England had already arrived in the new land that was now called Virginia (the entire Eastern Seaboard) Folks were setting up shop in Jamestown by now as well. It was rough. And things weren't going as planned. At one point, out of supplies and exhausted, the homesteaders gave up, loaded up the ships and begrudgingly began their return to England.
At the very moment they released the boats from shore, Lord De la War came around the corner, into the mouth of the river, with fully loaded supply ships. Heading right for them. The hand of God was acknowledged by all. Lord De La War exited his ship, bowed in prayer, and then walked immediately to the chapel those exiting settlers had built, (which ironically, along with the other existing buildings, had not been burned prior to their departure–as was custom) and so… they gave thanks.
Meanwhile, back in Holland, the Pilgrims now in Scrooby, were preparing to finally set sail for the New World. Their destination was supposed to be the Hudson River. (The area now known to us as Manhattan.)
Due to weather and tides, after two attempts they realized landing as planned was not meant to be. They simply acknowledged fate and wound up very north of their intended destination. A place we now call Plymouth, in what is today Massachusetts. (outside of the legal boundaries of their Company Contract)
A little known fact is that during the two years before this unintentional landing, small pox had wiped out almost all of the Indians on that very Massachusetts shoreline. hmmmmm Interesting.
It was now nearing winter. The ship-weary pilgrims were sick from the journey. And the only thing greeting them when they did land was sand — and the coming snow. No buildings. No food. So, they begged the Mayflower to stay for the winter in order to provide them food and lodging. The Captain and crew were not happy, but finally agreed.
Many of these poor souls died within the months that followed. By the next fall, only about 53 remained and were present when they did finally gather together to give thanks to God who had brought them to a region they hadn't planned on. And an area cleared out for them ahead of time.
As they were now legally outside of the geographical area that had been specifically outlined in their Company contract, they were unexpectedly finding themselves a people on their own. Free. Without a formal, written law. And that my friends…is how the Mayflower Compact came to be. They needed some form of government, and because of circumstances beyond their control, were now completely on their own and rightfully in a position to create one.
Interesting how delays, complications and unexpected diversions can, if we allow them, become the very blessings for which we end up giving thanks.
May you give thanks this season. And too, may we remember.
God Bless.
S.
November 11th, 2011 by stephanie
It's Veteran's Day. Each of us in our own way wish to show gratitude. Yet, when we try to express it, I am amazed how many of us so often feel our words are a bit inadequate. Quite a few of the men in my family did some military service. I had three great uncles that were in World War II. One of them was in the Battle of the Bulge, was captured by the Germans…and escaped! A cousin of mine served in Viet Nam.
How do you properly thank someone who went through horrific moments because of their love and commitment to this country? How do you encourage the service man or woman who stood watch at some distant, lonely, God-forsaken locale. Feeling that no one knew, or cared?
It's not an easy task.
I am reminded of Clarence Soulliard. WWII. Army. He was 1 of only 3 that returned home from his unit of 200 that deployed. Just a kid from Pennsylvania. Shot in the face by a German sniper and stories these pages are not able to hold. He was blessed to return to his homeland
I am honored to claim these men as family and friends. And may they know they are loved by those of us, too, that hold this country of ours most dear.
Here's to our Veterans. May they know, their labor was not in vain.
Today- we honor you.
Just my thoughts.
November 10th, 2011 by stephanie
It's the season of debates. If this is news for you, the Presidential debates for the 2012 race have actually been going on for the past few months. The Republican candidates are being forced to hash out in public just exactly what they think. And we viewers get the opportunity to watch how quick they are on their feet, and too, how they react or respond under pressure.
In a weird way, we like to watch people fight or disagree. I am not sure why. Maybe we are secretly trying to learn what to do and not to do in the heat of the moment. Or, maybe it's that self righteous kinda thing of, "I certainly wouldn't say or do that? " But would we? We don't really know until we ourselves are in the heat of our very own moment.
I don't know why I get so surprised when I find myself not seeing eye to eye with someone. I guess I should expect it by now, but for some reason, I always seem so shocked when I find myself in that type of situation. How could they not see things my way? I muse. You, of course, wouldn't happen to relate…would you? 🙂
People who want to eradicate conflict, disagreements, or even war, are ignoring a very human reality. One that will never change. I am not going to change the way you were brought up or what you believe about life. In turn, it is not very likely that you will change my mind either. What to do, what to do, what to do?
There is a saying I have taken to heart many times over the years. "When in a tug of war, let go of your end." If you think about it, you might begin to see the wisdom in that statement. If both sides are huffing and puffing and pulling with all their might, and suddenly, one side just "let's go"–what happens? That's right. The side left with the rope all falls down.
Now, am I saying to just give up, even when you believe deeply about something? No. Am I saying if you get tired of the fight, let go? No. Not that either. What I am saying is that many times in our lives, certain arguments and disagreements simply aren't worth the fight. Period. Sometimes, one side just needs to let go, accept that the two sides are not going to agree, and move on. It's that easy.
If there is a struggle in your life that you are currently holding onto…if you deep down know that you are not going to change your way of thinking, and too, you know deep down, the other person is not going to change either, then why keep struggling? Neither of you are going to successfully convince the other. Someone has got to let go. If even only for the time being. It might as well be you. Save your energy for the crises. The real things in life that need your attention and matter the most.
Just my thoughts,
S.
November 3rd, 2011 by stephanie
So… an online magazine in Canada was kind enough to do the nicest review of my book…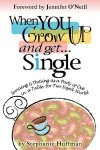 If you hadn't heard by now, yes, I wrote a book. And I wrote it to give the Single Person a smile, a laugh and a pat on the back. It's a fun read, or so…I am often told. 🙂
As we enter the holiday season, this a great, considerate, encouraging gift for that single person in your life or that friend who is struggling with the Single Season they are finding themselves in. Maybe it's you.
Whatever the case, the book touches on most every area of life. From how to make a new group of friends and keep them, to dealing with family over the holidays. Pets that are our "kids", caring for the elderly while "alone"…and it that's not enough, I've included an entire section on YOU and your goals and dreams. I have some little tests or worksheet type things that make you take a real look at where you, where you'd like to be and where you should be going.
I hope you will share this book with a friend, even if you only read it for yourself. It's a FAST, fun read. I promise.
You have some options:
And here's the kind Canadian review. Be sure you find it on page 32 if you get lost in linkville…
Thanks again to so many of you for your amazing support of this project. Appreciate you!
Hugs,
S.
Faith Filled Familly Review:
http://issuu.com/michelledanko/docs/fall_2011anniv/32#print