March 19th, 2017 by stephanie
We were simply working through the preparation stage of the editorial process with an author when we learned some very unexpected news. Apparently one of the catalysts for the book we were reviewing came from a disturbing situation. The author had learned that for 8 of the 10 years they had been married, their spouse had been cheating on them.
Other than expressing the usual, "Oh, I am so sorry…" we just didn't know what to say.
It's just not right. It's a statement that you and I probably say out loud at least once a week. But I have to admit, I say it more these days then I did when I was young. It seems the world has gone plumb crazy.
That same week as a friend and I squeezed into a tiny table at a small Italian eatery, she poured out her heart. I was saddened to hear her latest business connection, whom she had known for only a week, had offered to take her to Paris as recompense for not returning her call in due time. He was so sorry, and this was his attempt to make things right. Bizarre. Presumptive. No words.
With that, I had to remind myself that this would-be-new-phenomenom of "odd behavior" is simply just not that—new! Things haven't been "right" for quite some time.
Take this story for instance: imagine being anointed king of a country, while the current one is sitting on his throne just a few miles away. That's what happened to David centuries ago. Just a shepherd boy at the time. You know he had to wonder…
Then, to turn around and learn that after he had lived in the palace, at the king's invitation, had been good to the king's son, and had served both well, the king wanted him dead—and made orders to that effect.
It just wasn't right.
First of all, the sitting king must have said when he found out, "Why would God do that to me? It's just not right. I am the King!"
The young boy would say, "Why does the king want to kill me when I have been nothing but kind and obedient? And let's be clear, I didn't ask for this. It's just not fair."
But the truth is…everyday life is like that. And for some reason, when things go wrong, we act as if we have been stunned by the event. We feel as if things should just, well, be "fair" in life. That things should be "right." People should behave. And you know, they can and they should. Sadly, they don't.
Human nature and life events tend to collide. We can't explain it, and we can't control it. We simply have to buckle up and ride it out.
It reminds me of a time, years ago. I was driving around town with my grandmother who had come for a visit. It was very dark at one particular place where we were. The lighting was very poor. When I turned out of the parking lot into what I thought was the lane, we learned suddenly it was a huge ditch. My amazing  grandmother reached over, grabbed onto me, and commanded, "Ride it out, honey! Just ride it out." We did. We survived. And, thankfully, so did the car! To this day, I don't know how we got out of that ditch in the pitch black. That was truly a ride of a lifetime, and one I hope to never repeat.
You can't control life. Even if you want to. And we certainly can't understand what God sees or what he is doing when we are in the dark and life hits us squarely in the face.
God reminds us in His Word:
Isaiah 55:8-9

New Living Translation (NLT)
 "My thoughts are nothing like your thoughts," says the
Lord

.
"And my ways are far beyond anything you could imagine.
For just as the heavens are higher than the earth, 
so my ways are higher than your ways
and my thoughts higher than your thoughts."
Now let me be clear. I am not saying in the least that we sit down and let wrong persist. We should fight for what is right. When it is, however, in our power to do so. You may be familiar with the phrase, "Evil persists when good men do nothing."
What I am talking about here, is, when things that you can not control happen, and just do not seem fair, when you wonder if justice will ever be served…fighting and fretting those moments…is not the answer. I would suggest prayer is the best prescription at that point. Ask for wisdom. Ask for protection. Ask for direction. And hold on for the ride.
I promise, you'll come out on the other side. You are going to be OK. This too shall pass…just.hold.on.
—Just my thoughts,
S.
Want to receive these to your inbox? Just click here.
And thanks!
March 12th, 2017 by stephanie
As Bosco and I made our way to the kitchen for our morning ritual, I flipped the switch on the coffee pot and reached for the dog bowl in order to prepare his breakfast.
When I opened the cabinet to extract my coffee cup and looked out the window, it started. There it came…snow…in March. Big, fluffy, lovely snowflakes fell to the ground and began covering my deck and yard. It was just as my neighbor had predicted the night before.
As I stepped outside to take it all in, the birds began chirping at me as if to say, "Hey, lady, you're going to need to feed us today. It's snowing, you know."
When you think of the South, the first thing that comes to mind is definitely not snow. It does, however, grace us, but not enough for the state to warrant purchasing, maintaining, and storing a fleet of equipment to manage the roads and more. With that, snow in the south is taken very seriously. At least, here in the Nashville area. One inch has been known to shut down certain areas of the city.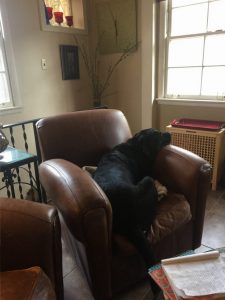 But snow in Spring is just not known to happen. So when it fell on the blooming tree outside my window, I decided to light the candles, grab my laptop, and settle in for a lovely, what we call here, "snow day." Bosco seemed to agree with the idea.
And then, as quickly as it came—it left. By 2pm it had melted and the dreamy, grayish morning had morphed into a sunny afternoon.
It reminded me that life events are like that. Some good. Some not so good. "Things happen," is a common saying these days. When they do, we can either shut down, get upset, or simply settle in and ride it out. The sun will eventually come out. It's just a matter of time.
I experienced that exact situation on my snowy morning. The day I had planned was hijacked by a "moment." I fretted and strained, only to realize later that afternoon it was working towards resolution due to the graciousness of a third party. Just like the snow that was melting on my deck, the problem at hand was slowly disappearing as well.
I wish I didn't let "life" get to me like it does. I am old enough now that I should know better. However, human as I am, I find myself still working on the "basics."
If you are stressing over something today, I hope this passage will encourage you.
By the way, I didn't feed the birds. They're out there now in full force, and they seem to be doing just fine.
Selah.
—Just my thoughts.
S.
Want to receive these to your inbox? Just click here.
And thanks!
March 5th, 2017 by stephanie
While on the phone with a teammate the other day, I found myself laughing at her take on certain projects we were currently navigating.
Her ways of thinking and how she expressed her response to the challenges at hand simply tickled my funny bone, as they say, to no end. I realized how fortunate I was to have so much laughter in our work environment. And happiness. I recall days in my corporate life where I was miserable, and so were the people around me. I don't miss that world.
It was comforting to know that I currently live and work in a peaceful place. We work to remove and keep out the toxic and negative. It lifts my soul and more. And, as a result, I simply feel good.
We've all heard the phrase, "Laughter is the best medicine." We also know the one that says, "You just have to laugh." (Either that, or cry, right?)
Perhaps you've heard of studies where the ill or aging were told to watch funny movies or read funny books only to experience a "healing" of sorts in their conditions after they carried out the prescription. Throughout the Scriptures one reads where we are encouraged to "be joyful in all things." There must be a reason, or something deeper behind that, I figured.
So, I was quite pleased when I learned a statistic that actually backs up this train of thought. Not only that, it proves that laughter, happiness, actually makes you "young!"
Here is what I discovered…
Every time we laugh, the "Youth Hormone" increases by 87% in our bodies. This is the hormone that slows down the aging process. It keeps us younger, revitalized, and fresh.  
(Forget the anti-aging cream, I think I just found my new youth serum.)
It got me to thinking. People who don't laugh much, or who tend to be cranky, are usually not the type of company I find myself wanting to hang out with. If you consider the people in your world who perhaps take life a bit too seriously, or have to be "good" all the time, or feel the need to work hard and not goof off in any way shape or form, you may have found they just aren't fun to be around. We tend to avoid those folks. They make the surroundings uncomfortable. Tense. They're usually complaining about something, or making a negative comment about someone, and well—it's just tiring.
If truth be told…I bet they tend to look a bit, well, old?
Think of the people you know who just look "young". If you really take a moment to consider them and their lifestyle, I bet you will find that they are happy people. Or, at the least, they work to make the most out of life and to take the high road even when things get somewhat low. Angry, bitter, uptight people, however, just don't seem to have that youthful glow.
Just another proof, I'd say, that the Bible is full of truths that we don't always understand upon first reading. For instance:
King Solomon said, "A happy heart is good medicine and a cheerful mind works healing, but a broken spirit dries up the bones." (Proverb 17:22, Amplified)
I have read this passage all my life, it's nice to see some science that explains it in further detail.

With that, I hope you begin to notice how often, or little, that you laugh, or smile even, this week. I also hope that you will take a look at those you tend to spend time with. Are they smiling? Telling a joke? Saying nice things and or being encouraging? If that's the case, make a commitment to more time with them. Add them into your routine. It will be your fountain of youth, per se, if you do.
The best part about this regimen? It's free of charge! It will only cost you the time you invest in, well,…HAPPY!
Just my thoughts.
S.
Want to receive these to your inbox? Just click here.
And thanks!