April 30th, 2017 by stephanie
This was blog was originally published in 2010. It has been brought back to commemorate a holiday we may not all be too sure about….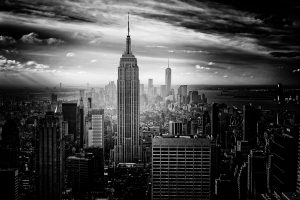 As we walked the sidewalk back to our corporate offices, I can remember being so impressed with this colleague of mine who had actually, at one point in his life, gone to work in Manhattan each day. I was fascinated by his stories and couldn't get enough. It was the stuff that made for television scenes and movie episodes that not only danced in my head but are familiar to us all.
Little did I know, that one day, I too, would be stepping in and out of Manhattan on behalf of the company for which I worked at the time. I loved that job. It was my all-time favorite to this day. But alas, all good things, as they say,"must come to any end." And so they did.
During those fabulous trips to the Big Apple, I marveled at the concrete culture the city dwellers seemed to revel in, if not literally-cherish. I, on the other hand, as I headed out for each trip up north, would take in the vast green lawn and the squirrels skipping about as I backed out of my driveway. In addition, I would suddenly catch myself saying out loud to my house and those beautiful 40-year old towering trees, "Stay right there. I'll be right back!" It became a private tradition of sorts. And, a few days later, I always kept that promise, celebrating it on my deck with Ole Judge, while looking out at the foliage that takes up the entire embankment of my backyard.
Sure. New York was great. But there was just something about the green, and the grass and the…trees. Even a job possibility that came my way in that "city that never sleeps" couldn't quite lure me (and the dog) to the apartment lifestyle of "The City."
That's why ARBOR DAY, I guess, is such a big deal to some folks. Those of you Alaska dwellers, or Michigan and Colorado types, might not quite relate to the importance of such a holiday. But for those folks in the land of pavement, you can see how it can be a pretty big deal.
ARBOR DAY (the Final Friday in April) is actually a real holiday- if you didn't know. But it's not, as you might think, only celebrated in the USA. Nope. It's pretty international. And it's not too new. It was actually founded in 1872 by J. Sterling Morgan of Nebraska. It's a Civic holiday, mind you. A tidbit for you infophiles.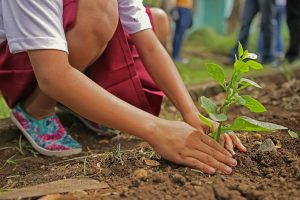 And, here's some trivia to take with you to that upcoming board meeting or coffee chat this week: On the first Arbor Day, April 10, 1872, an estimated one million trees were planted.
And there you have it.
Just my thoughts.
S.
Want to receive these to your inbox? Just click here.
And thanks!
April 16th, 2017 by stephanie
Sometimes in life, things happen that look permanent. You can't imagine anything good coming from the situation. No hope at all. But then, something amazing happens.What do I mean by that?
I was sitting in a most lovely Tenebrae service this past Friday at my church. It was the usual profound story, but then, a poignant moment struck me.
Imagine a very wealthy, powerful man in your community who has spent time and money commissioning his family gravesite out of a stone area. The skilled craftsmen have been cutting, chiseling, smoothing, all by hand. It's a luxury most of us will never have. We will, most of us, most likely be placed in a box that goes into the ground.
Then, picture this man, approaching the authorities in a most clandestine fashion, asking for the body of the most notorious criminal, recently executed with government authority, and placing that dead body into this new, private tomb.
That's what Joseph of Arimathea did. With the help of Nicodemus. They were devastated. The person who they had recently come to believe could change the world they were living in, make it better—the one who had "answers" …was suddenly and violently taken from them.
Fear. Anxiety. Feeling lost. Forlorn. Plan A was gone. But what would Plan "B"…be?
Thankfully, they didn't have to worry for too long, and they didn't have to come up with one.
That Sunday morning, Jesus made surprise visits to those near and dear to him. Friends, family and disciples alike were able to see Him in person. Alive and very well.
Something wonderful had happened. The impossible. A miracle. And the world has never been the same.
If you are facing something that appears unfixable…if you are scrambling for answers or a plan…I invite you to place your thoughts, prayers and hope in the one who conquered death. It's a very simple, yet complex belief. But just like for Joseph and Nicodemus, you too will come to see, there is a Sunday. And it will be very, very good.
Happy Easter friends.
He is risen…
—S.
Want to receive these to your inbox? Just click here.
And thanks!
April 2nd, 2017 by stephanie
I'd never heard of the university. It had an odd name, and I thought the request for my client to speak there was something that would fade away. An interesting gentleman who kept calling and emailing our offices, however, had other plans. He persisted, worked his contacts, and in time, the date was scheduled and our flights were booked.
That week, Gonzaga University would make the cut for the playoffs in the Final Four. As I packed my luggage for our trip the next morning, I was able to watch the very game that the Zags would not only win, but that would send them to Phoenix. It was exciting.
This was all happening during March Madness. And it was historic. Since opening their doors in 1887, Gonzaga U had never had a national championship. It was a miraculous time for them, to say the least.
Once on their campus, I enjoyed absorbing the environment that had produced this stellar team and student body."Why would I have the privilege of being a part of this amazing week for them?"  And too…"What is God doing or thinking when moments like these, so serendipitous, occur?" I knew I would jot down my thoughts as soon as my schedule calmed down.
Upon returning home, I was able to watch them win again. This game now sending them into the Final Two. As we had received some lovely "swag" from the university upon our arrival, I could now cheer them on in style.
Earlier that morning, the lawn service had come to the house. I had randomly googled, then called, a company the day I returned home from my trip. They said they could come on Saturday as they would actually be in my area. Imagine my surprise when after finishing my yard, they also mowed the house two doors down to my right, and then another house two doors down to my left before heading off to their next rounds. Ironic? Serendipity again? I think not.
I am truly amazed at those moments where God intervenes quietly, and I have no idea how or why. But I just know that He did "it" or handled something for me. Not because I was a good girl that week, but simply because He chose to show His power—and I may never know the answer as to the "why?"
One thing I do know, it's an opportunity to be reminded of how big He is, how indiscernible He is, and to simply offer gratitude and thanks.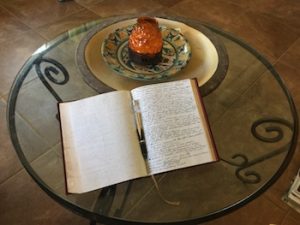 If you experience a "God" moment this week similar to what I have described above, why not write it down? Make note of it. And if you can, continue to make note of those moments in the coming days. I have a lovely journal that I simply jot a line in when those moments occur.  I try to write down at least one or two each morning. I list those things that I know only God could have orchestrated. And to simply give thanks. It's a wonderful way to start the day. Just so you know, I call it my Book of Gratitude. I hope you will consider starting one of your own. Even if it's a google doc on your cell phone. 🙂
Just my thoughts.
S.
Want to receive these to your inbox? Just click here.
And thanks!