April 2nd, 2017 by stephanie
I'd never heard of the university. It had an odd name, and I thought the request for my client to speak there was something that would fade away. An interesting gentleman who kept calling and emailing our offices, however, had other plans. He persisted, worked his contacts, and in time, the date was scheduled and our flights were booked.
That week, Gonzaga University would make the cut for the playoffs in the Final Four. As I packed my luggage for our trip the next morning, I was able to watch the very game that the Zags would not only win, but that would send them to Phoenix. It was exciting.
This was all happening during March Madness. And it was historic. Since opening their doors in 1887, Gonzaga U had never had a national championship. It was a miraculous time for them, to say the least.
Once on their campus, I enjoyed absorbing the environment that had produced this stellar team and student body."Why would I have the privilege of being a part of this amazing week for them?"  And too…"What is God doing or thinking when moments like these, so serendipitous, occur?" I knew I would jot down my thoughts as soon as my schedule calmed down.
Upon returning home, I was able to watch them win again. This game now sending them into the Final Two. As we had received some lovely "swag" from the university upon our arrival, I could now cheer them on in style.
Earlier that morning, the lawn service had come to the house. I had randomly googled, then called, a company the day I returned home from my trip. They said they could come on Saturday as they would actually be in my area. Imagine my surprise when after finishing my yard, they also mowed the house two doors down to my right, and then another house two doors down to my left before heading off to their next rounds. Ironic? Serendipity again? I think not.
I am truly amazed at those moments where God intervenes quietly, and I have no idea how or why. But I just know that He did "it" or handled something for me. Not because I was a good girl that week, but simply because He chose to show His power—and I may never know the answer as to the "why?"
One thing I do know, it's an opportunity to be reminded of how big He is, how indiscernible He is, and to simply offer gratitude and thanks.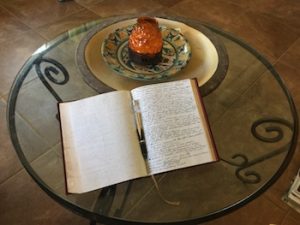 If you experience a "God" moment this week similar to what I have described above, why not write it down? Make note of it. And if you can, continue to make note of those moments in the coming days. I have a lovely journal that I simply jot a line in when those moments occur.  I try to write down at least one or two each morning. I list those things that I know only God could have orchestrated. And to simply give thanks. It's a wonderful way to start the day. Just so you know, I call it my Book of Gratitude. I hope you will consider starting one of your own. Even if it's a google doc on your cell phone. 🙂
Just my thoughts.
S.
Want to receive these to your inbox? Just click here.
And thanks!
January 8th, 2017 by stephanie
I was listening to a story being told, and found myself drawn in with each passing sentence from the orator. It was a story of a boy who came from a home where the father was absent, and if the mother was not in a psychiatric ward, she was in jail, or with a boyfriend. Apparently, she even left her son at a bus stop one day to be with her boyfriend. Many times he was homeless and had to steal food to survive.
A school counselor began to sense the problem and took a strong interest in him. When he dropped out of junior high, she began praying for his return. Two years later, he walked through the doors again to begin 9th grade.
In time, he found a job mowing the lawn of an elderly couple. As they learned his story, they opened their home to him. When they discovered he had musical talent, they encouraged him to begin entering contests and more—the woman of the house was always present and in the front row with her bible.

What shocked me to learn was this person was country artist Jimmy Wayne, known for the hit song "Do You Believe Me Now".
Stories such as these can truly put your problems into perspective, and too, encourage each of us that any adversity or problem, can, in time, be overcome.
If you're struggling today with a situation or circumstances that seem impossible, perhaps this life story will be an encouragement to you.
—S.
Want to receive these to your inbox? Just click here.
And thanks!
November 20th, 2016 by stephanie
When I was a young girl, living in the San Diego area (Escondido, CA), my maternal grandmother was devoted to making sure I had a healthy view of the world. Not only that, she was adamant that I learn culture and that I be exposed to it. She was also extremely keen on my being politically aware. All of the above passions, I can proudly say, she passed along to me.
On one of our usual excursions, she took my mother and me to Old Town San Diego for the day. There I experienced a step back in time, to another era, and another America really. I recall being stunned by what I found. Not the room or the desks, but what was nailed to the wall is what burned into my memory and my mind. What am I referring to?  The framed Expectations of a Teacher and the Punishment List which featured the exact consequences poorly behaved attendees would face.
Long before I would attend night school to become a credentialed teacher myself, I learned that educators of yesteryear, and our country, were now a far cry from the schools I knew of even my day. In that early pioneer environment, however, there was not a lot of flexibility or room for discussion, as we will see below.
It's hard for us to imagine, when you review the 1872 Instructions for Teachers, that someone would commit their life to that standard. But they did. Inspite of what folks today might cry out as "horrific" or "abusive," amazingly, we as a nation survived, and evolved, and the rural students who attended got some good educations.
It's even harder still to imagine, in the world of today, that those mean, cruel teachers would actually carry out the punishments that were tacked to schoolhouse walls without parents screaming for them to step down or be removed. But they didn't. They supported the teacher.
Now, that being said, I don't condone the teacher who slapped my paternal grandmother's hand with a ruler because she used her left hand! Thank the Lord we have moved past that bizarre mindset.
If you don't know what I am referring to, and if you haven't had a chance to visit a place like the Mason Street Schoolhouse, here is a quick sharing of what I am referring to….
1872 INSTRUCTIONS TO THE TEACHERS
1. Teachers will fill lamps, clean chimneys and trim wicks each day.
2. Each teacher will bring a scuttle of coal and a bucket of water for the day's use.
3. Make your pens carefully. You may whittle nibs for the individual tastes of children.
4. Men teachers may take one evening each week for courting purposes or two evenings if they go to church regularly.
5. After ten hours in the school the teacher should spend the remaining time reading the Bible and other good books.
6. Women teachers who marry or engage in other unseemly conduct will be dismissed.
7. Every teacher who smokes, uses liquor in any form, frequents pool or public halls, or gets shaved in a barber shop will give good reasons to suspect his worth, intentions, integrity and honesty.
8. The teacher who performs his labors faithfully without fault for five years will be given an increase of 25 cents a week in his pay — providing the Board of Education approves.
Punishments
1. Boys and Girls Playing Together: 4 lashes
2. Fighting at School: 5 lashes
3. Quarreling at School: 5 lashes
4. Gambleing or Betting at School: 4 lashes
5. Playing at Cards at School: 10 lashes
6. Climbing for Every Foot Over Three Feet Up a Tree: 1 lash
7. Telling Lyes: 7 lashes
8. Telling Tales Out of School: 8 lashes
9. Giving Each Other Ill Names: 8 lashes
10. Swaring at School: 8 lashes
11. For Misbehaving to Girls: 10 lashes
12. For Drinking Spiritous Liquors at School: 8 lashes
13. Making Swings and Swinging on Them: 7 lashes
14. For Waring Long Finger Nails: 2 lashes
15. Misbehaving to Persons on the Road: 4 lashes
16. For Going to Girls Play Places: 3 lashes
17. Girl Going to Boys Play Places: 3 lashes
18. Going to School with Dirty Faces and Hands: 2 lashes
19. Calling Each Other Liars: 4 lashes
20. For Wrestling at School: 4 lashes
21: For Weting Each Other Washing at Playtime: 2 lashes
22. Scuffling at School: 4 lashes
23. For Going and Playing about the Mill or Creek: 6 lashes
24. For going about the Barn or doing any Mischief about the Place: 7 lashes
It truly is interesting to revisit and reflect upon our history. And too, to review it against where we are today. What parts of what we see are good and worth keeping, and what areas might need a refresher course or gentle reminder of things that are better or best? Whereas our country was more on the same page in those "olden" days, and seemed to fall in step, in today's world, we have moved more to personal truths—not a core or foundational truth shared by the masses. So, I guess, this conversation would be more objective these days.
Whatever the case, taking stock personally is where it all should, and actually does, begin.
In the coming week, let's challenge each other to view what part of this  history lesson encourages us, inspires us or lights up our passion. If you would like to share, I'd love to hear….info@stephaniehuffman.org. Or, just leave a comment!
With that, just my thoughts.
S.
Want to receive these to your inbox? Just click here. And thanks!