September 25th, 2017 by stephanie
I have had the privilege recently to become friends with some precious families. Mostly the gals, and, of course—the adorable kiddos. The husbands' day job? Well, you know how it goes…"I'd tell ya', but I'd have to kill ya,'" kinda thing. Sounds dramatic, but as I get to know these women, it's dead serious. You keep your mouth shut about those things.
It's been an honor to be a part of their semi-inner sanctum. For them to invite a "civi" (civilian) like me to even "come to the table," if you will, means more to me than they can know. You have to understand, I can't even get through the song when Lee Greenwood sings I'm Proud to Be An American and I cry at the Star Spangled Banner as well.
Ironically, the first Titans game that I had the pleasure of attending this year featured the very group of this band of brothers as the team that rolled out the huge American flag on the field during the National Anthem portion of the game. (A tradition in our country that is quite in the news and under fire of late due to NFL players "taking a knee" during that special tribute time.)
But back to the women. These gals say goodbye to their husbands, and many times have no clue where he will land. Today, they can text and communicate while they are at opposite ends of the world, but still, when you are left for months with small children, a house to maintain, the bills, two pit bulls, a ferret, and a snake (all named after famous Americans by the way—you can't make this stuff up—so SF!) …it's just as tough a job as that of the boys who are managing somewhere in an undisclosed location.
One of my sweet friends, whose husband is stateside long enough to leave her with child each time before he deploys, recently miscarried. He was not able to be there with her through this part of life's journey. Life goes on. Tough.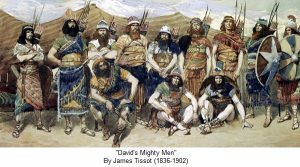 These guys and their "occupation" aren't actually new. The equipment and technology may be, but the elite warriors have been around for centuries. Many folks may not know that the Bible actually records one amazingly spectacular special forces team of its own. In case you missed it, David's mighty men (known simply as The 30) were more than 007 for their time, and they were notorious enough to make the Holy Scriptures. And, as we all well know—that is some pretty prime real estate.
So, I leave you today with a few thoughts:
You will certainly want to check out the amazing story of these valiant warriors.  Find it here in two different books: Here and Here.
Their women didn't get mentioned. Well, except for the fact that one of the men was Uriah. Yes. THAT Uriah. And, well, we all know what happened to him and to his wife. (I can assure you, these ladies and their men that I know are fiercely loyal and have what I think are fantastic marriages. At least, the ones I have met.)
Say a prayer today for those men, and their families, if you will. They would never ask for you to do so, but I can assure you, they would privately be more than grateful. As you can imagine.
Just my thoughts on this early fall day.
Best!
Stephanie
Want to receive these to your inbox? Just click here.
And thanks!
March 22nd, 2015 by stephanie
I was driving down the road when she called. Having blue tooth in the car is a blessing, and I touched the "answer" button in anticipation of what was coming next. She's always so bubbly and energetic, her conversations fill my emotional and mental "tank" if you will, so they are always a welcome treat.
"Ok, I know I shouldn't complain…this is such a 1st world problem…." I had to laugh…but those words struck me. She was so balanced. So aware that the things that most likely bother us on a daily basis might be mundane and inane. If you think about it…when people are being beheaded and tortured by modern-day, 3rd-world barbarians just a few thousand miles away? I think you know where I'm going with this…
But alas, this was "her world" and she was living it and needed to vent. I have to admit, it was still a bit delightful in how she did it. I have much to learn from her.
In all honesty, there are days when I simply need an image of the holocuast to flash by a screen…and it's enough to remind me, "Now, what was I just upset or thinking about?" Those moments of reality jar me out of my minutia and cause the dust to settle once again around me.
If I am truthful, I have so little to complain about it. Do I have a roof over my head? Yes. Do I have a food? Yes? Do I have clothes? Yes. (Oh, my, word…you should see my closets…but back to topic…) It reminds me of the verse
If we have food and covering, with these we shall be content.
1 Tim. 6:8
Think about it. Some people right now, somewhere, just want shelter, a clean bed and a hot meal. That slaps me with some quick perspective.
Now, do I mean to verbally beat up those of us living in a 1st world country? Nope, but it does help to adjust the panic or frustration of the moment. Sometimes, I just have to stop and say, "Cleansing breath…namaste." It does, if even for a moment put a smile on my face.
Whatever is frustrating you today, I hope that this little blurb gave you a mental "breath" or "vacation" to just stop and think. It's bad, yes. What you're feeling is valid and yucky. But, maybe it's survivable? I don't know. It's worth a shot.
🙂
Just my thoughts.
S.
March 15th, 2015 by stephanie
We live in a culture, at least in 1st world countries, where you can pull your car up, order a super-sized option, and drive away with what you requested, immediately meeting your wants…(forget your needs). It's all about gratification. We can upgrade (or trade-in) most anything these days at any time. And we're used to that. We expect it and we're, in all honesty, a bit cocky about it—getting our way on demand, that is.
But have you ever found yourself in a place where you weren't getting what you want. Perhaps, you woke up one morning only to find that what you once loved, or cared for, had been stripped away. Never to be seen, or heard from, again?
That's what happened to Job.
He was minding his own business, and then in one day, he lost everything. Gone. Without a trace. And no explanation, or "word" from the Lord on the matter. Just silence…and deep pain. Clueless as to the grand master plan that was going on in the super natural world behind the scenes, as beautifully played out, in Chapter 1 of the book that boasts his name.
Job's "godly" friends sat around him, waxing eloquent, trying to explain to him why this had happened to him and what he'd done to bring it all upon himself.  And too, what he needed to do to fix it and how he needed to handle himself while going through this horrific ordeal. (So easy to tell someone how to feel or what to do when we aren't the one hurting.)
Funny how those "words of wisdom" didn't take away Job's agony. They only made it worse.
One thing I hadn't noticed before in the last chapter was a particular verse (Job 42:10). Not sure how I have missed that my whole life, but here it is…
When Job prayed for his friends, the Lord restored his fortunes.
In fact, the Lord gave him twice as much as before.
Job 42:10
Did you catch that, when Job prayed for his "friends"…yep, the ones who criticized him while he was down and out, the ones who abandoned him in his time of need, who didn't want to deal with his mess…those "friends." I honestly don't know how he did it. But yet, I do.
God and Job had just had a little…no big, "Come to Jesus meeting" as they say here in the South…and Job had nothing left. Remember, in fairness, God never let Job in on the "By the way, I threw you to the proverbial lion," scenario. But, Job realized who God was after that chat, he saw his own humanness, and had one of those, "I got nuthin' " moments.
God also chewed out those "friends" of Job's and let them have it as well.
Perhaps, when Job saw that, maybe that is when he prayed for them. Interesting. I guess at that moment, they were all on the same playing field. No one of them was any "better" or "godlier" than the other. They were on one side of God, and He was on His throne—staring back at all of them. A bit disconcerting I might add.
Anyway, after that, God super-sized Job's blessings. I don't recall Job even placing an order? But he got one. And it was a whopper (pun intended). Everything he'd ever once owned, or had, was doubled. If you look close, you'll see that he even lived an extra 140 years after the fact so that he was given time to enjoy it all.
Now that's a cool story.
If you're in a tough spot in life and can't figure out "why" (or know someone who is) perhaps take a moment to look at the first and last chapters of Job.  It might shed some light on the situation, or if even for a bit, bring some fresh perspective to the matter—to all parties involved. Jus' sayin'.
🙂
Just my thoughts,
S.
If you'd like to know when the latest blogs comes out, we'll send it to your inbox. Just click here!
I'd love to invite you to follow me on Twitter and Facebook
August 24th, 2013 by stephanie
I had the privilege a few years back to be a part of the taping for a television show they were creating about men and women. 13 shows were taped in four days. Yep. It was crazy.
The process goes something like this:
A show is taped. You go and change clothes. And you start all over again.
The star of the show was a marriage seminar leader and pastor from Wisconsin, Mark Gungar.. Not a household name, as yet, but hilarious. He was engaging, funny, and easy to listen to. If there is one thing this guy has down, it is getting the male population to "tune in" to what he is saying and connect! And too, he makes some great points to the women in the audience.
Basically, we girls just plain don't get men, as we know. But what we forget, is that half the time, we punish men for not "thinking" like women, not "understanding" women, not "relating" to women, you get the picture. All the while forgetting they are NOT women.
It saddens me that my generation of women missed out on the tutoring from older women that guys and gals are different. And that it's ok. That it's not something to fight, but rather understand and embrace. But nope. We were the generation of unisex haircuts and clothing. It was cool to be "alike". To prove that we were the equal. Differences were an "archaic" way of thinking. And we were above that. hmmmmmmm
We can see how well that worked. The divorce rate and homosexuality skyrocketed during that period of time, families fractured, and the list goes on. We were left wondering why and how this could have happened. What went wrong during this modern, intellectual way of thinking?
It's pretty easy. The Bible has lasted for a few thousand years. Its principles (which are often deemed outdated and unrealistic) were tossed out. We would find a better way. But, I do wonder. Have we?
My challenge to you this week is just to simply strive to notice the differences in men and women. Embrace them. And work to understand them. It can be a beautiful thing.
Life's good. Let's work to make it even better.
S.
July 3rd, 2013 by stephanie
I love birthdays. I recently had one, and I can tell you, the people around me made it a month long celebration….and I loved it! I like to joke that the celebration of my birthday should begin in January and end in September. I know, a little over the top, but let's face it, who doesn't want their birthday t be special?
As we prepare to celebrate the birth of our nation (this coming July 4 weekend)  I have to admit, I never cease to be amazed at the miracle of America. It's beyond the imagination that we, as 13 struggling colonies, ever made it to this fascinating experiment that became known as the United States.
Have you had the chance to read 1776 by David McCulough? If not, why not make it a goal of yours to accomplish that challenge by the end of summer. I listened to the book on CD during some of my commutes as well as a long road trip. I was riveted, story after story. I promise…it won't put you to sleep. And you'll learn things you have NEVER heard before…and details you won't or didn't  get in school.
Here's a small one:
Did you know…
The vote for independence came from the 13 colonies.
12 voted "YES" with one colony abstaining.
Do you know which state abstained?
Place your answer in the "comments" section! Let's see who knows!
With that, here's to faith, family and freedom.
And to you, life, liberty and the pursuit of happiness.
A very HAPPY 4th to you.
S.
June 23rd, 2013 by stephanie
Some of you may remember a very clever song that Bing Crosby made famous. If you haven't heard it, try googling it and give a listen. It talks about getting rid of the negative in our lives. If you find yourself around negative people or downer types, you'll very much appreciate the tune.
The lyrics go something like this:
You've got to accentuate the positive
Eliminate the negative
Latch on to the affirmative
Don't mess with Mister In-Between
All of us have those folks in our lives that seem to focus on the bad, or are judgmental and critical, full of gossip, or just plain seem to always find the sad side of life. They can really drag you down. (And in all honesty, it's easy for ANY of us to fall in that direction. I know I do!) Spending time with people that are uplifting, fun and encouraging is just what the doctor ordered–if we want to live healthy and happy lives.
With that, here's a thought. Let's commit to taking stock today in our lives and see in just whom it is we are investing our time, energy and resources. Then notice if they fall into the negative side or the affirmative side. Once we do that little exercise, it's pretty clear to see where the adjustments, if any, probably need to take place. Who is making YOU a better, happier, healthier person? "Latch on" to them…as the song says. Make extra time to be with and invest back into them. Then remind yourself…as often as able…
Don't mess with Mister in-between!
Just my thoughts,
S.
Phil. 4:8 Finally, brethren, whatsoever things are true, whatsoever things are honest, whatsoever things are just, whatsoever things are pure, whatsoever things are lovely, whatsoever things are of good report; if there be any virtue, and if there be any praise, think on these things.
June 12th, 2013 by stephanie
Not many folks are aware that June 14th is FLAG DAY. Maybe it's because I grew up in San Diego County (a very military area) that I know about these things. I don't really know. But I have to say, I have always enjoyed observing it. Even as a kid I stuck flags either in the yard, or my bedroom window, or somewhere in the house if I could get my hands on one.
I hope you have a flag somewhere. If so, now is the time to go and try to locate it and dig it out. Perhaps you have one that you hang out in front of your home, or, perhaps you prefer one in your window. Maybe you have one of those table top stands that make for setting a flag on your kitchen or dining room table or even your desk at work.
So, just where did this special day come from? Well, President Woodrow Wilson (back in 1916) is the man that issued a proclamation that officially established June 14 as Flag Day. But it wasn't until August 1949 (a few years after WWII) that National Flag Day was established by an Act of Congress.
Flag Day is not actually an official federal holiday. But good ole Pennsylvania made it a state holiday. Flag Day used to include parades and festivities.  The real question is, how will you celebrate it this year? My dining room table will be decorated, the door will have something too, and I think I'll stick some flags in the grass again, just for old times sake.
Just my thoughts.
S.
June 7th, 2013 by stephanie
A group of us were chatting when one person mentioned the recent story of a Valedictorian that tore up their "school approved" speech while at the podium on graduation. The student then launched into The Lord's Prayer. I think it's interesting that this prayer was what the teen chose to recite. But the situation impressed me to say the least. It reminded me of a blog I wrote awhile back. I'd love to share it with you.
Are you finding it hard to forgive someone lately? When the email titled "Church Kids" arrivedin my inbox, I didn't realize it would end up as part of a blog. It was a kind of "kids say the craziest things" collection and I have to admit, these were new to me. It was one child's version of the Lord's prayer, however, that really hit home. It went like this: "And forgive us our trash baskets as we forgive those that put trash in our basket."
Wow, I thought. If that child only knew how right on the money they were!.
Isn't it the truth? It's easy for me to ask God to forgive the sin in my life. (My personal trash basket.) But oh how much harder it is to forgive those that frustrate and complicate my life with their sins. The ones that put their trash in my basket of life.
I certainly don't want God remembering or punishing me for my flub ups. Yet, for some reason, I don't seem to mind Him recalling the offenses of the people who have wronged or hurt me. I would imagine you understand and may be going through something of this nature right now.
It's in those times that I have to consciously remind myself that God has forgiven and loves the folks that hurt me. I didn't say it was easy. But the reality is this-Christ died for their sins too. Not just mine. Sure, I'd like to think I am the center of my Creator's world. But I'm not. There's a few billion more out there that He has His eye on and cares about as well. In an odd way, that's comforting. Why? Because it means that He deals with my trash and your trash everyday-and He can handle it. Our trash baskets don't phase Him a bit and what's inside of them doesn't change His love for either of us. That's a pretty cool thought.
There's a great verse that sort of helps me see that God just might be the great trash taker-outter.
It reads: And as far as sunrise is from sunset,
he has separated us from our sins. Psalm 103:12
Just my thoughts,
S.
May 29th, 2013 by stephanie
As we watched the TV show together while munching on pita chips and hummus, my friend and I kept hearing this one character on the show complaining about the fact she was continually being "bullied".
Ok, I thought to myself. How do you handle a bully?
To be honest, I was recalling a particular person I knew that in truth is a bully-type of person. During one particular evening, I was a bit forward and held my ground when this particular person came at me with intent to harm. In my opinion, I think they were surprised by my firm response. And I hope I sent a clear message. One that said: You don't need to be rude and you need to check your facts before you bite! Those two things seem to be a common thread with a bully. 1) They love to intimidate and get in your face, and 2) They rarely search for, let alone get, the facts straight. They just like to punch!
There's a great true story from New York City that might help you deal with the current bully in your life.
Back in the 1970s, crime had gotten so out of hand in The Big Apple, that people actually began posting "No Radio" signs on their dashboards to deter thieves from breaking car windows and stealing them. Mayor Rudy Giuliani and his Commissioner finally decided one day that they'd had enough. That's when they discovered the "Broken Windows" theory.
The Broken Windows Theory simply states that if a building has a broken window, that doesn't get fixed, the message is sent that no one cares. Vandals don't see any consequences, so they continue to destroy.
However, once the broken window is fixed, it sends a clear message that someone does care and that people are watching. And that deters crime. Using the Broken Windows theory, Giuliani and Bratton transformed NYC by treating minor crimes (vandalism, prostitution, and loitering) like broken windows. Instead of tolerating these issues they instituted a "zero tolerance" policy towards them. As criminals caught on, crime lessened. Citizens and tourists felt safer walking the streets and taking the subway and in turn took more responsibility for their own neighborhoods by getting involved.
So, the moral of the story is, let the bully know that they do not have the authority or the permission to mess with your part of the world or change your way of life. That's the power they want and they're determined to get it. If you and I sit back, and let the weeds grow, the vandals of our lives will continue to come. But if we stand up, take action and keep order, then… our part of the world can become a much better and safer place.
Just my thoughts. And, a bit from Proverbs too.
S.
May 8th, 2013 by stephanie
When I finished the book Founding Mothers by Cokie Roberts, I remember saying, "Wow, everyone should know these stories!" What struck me the most was the amazing mothers, not only of our country but of ordinary citizens as well. Moms contribute more to our society than people will ever most likely truly understand or realize.
But on a lighter note, some of these gals were just plain clever, witty and even a bit daring.
Did you know…
Martha Washington had a Tom Cat she named "Hamilton", yes, after Alexander Hamilton. And for good reason! That guy was married, but "got around" to be sure, so she said. 🙂
Nathaniel Green's wife, after his death, lived openly and traveled with her children's tutor. It was scandalous in the least! What most people don't know is that she helped Eli Whitney invent the Cotton Gin. It was at her plantation when that invention was birthed.
Eliza Pinkney, at the age of 16, was left to run the three family plantations. And in so doing planted a forest that she hoped one day would be used for her new nation's future naval ships! But there's more, she was responsible for envisioning and bringing about the American Indigo industry.
The book contains many more stories, but I think you can see, moms come is all styles, shapes and sizes. Share some stories about your mom with your friends this weekend. You just might be surprised what you unearth.

🙂
Just my thoughts,
S.