May 28th, 2017 by stephanie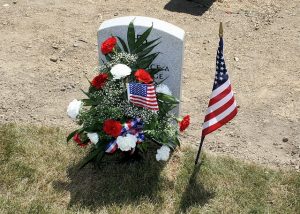 Did you know that Memorial Day used to be called Decoration Day?
My grandmother and my mother were the ones who taught me that piece of information when I was a little girl. But there's a reason for that.
Memorial Day used to be a special time set aside for Americans to visit the cemeteries. While there, they would decorate the graves of those who had given their lives in service to this country.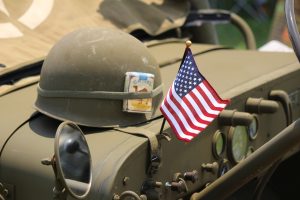 The national holiday or remembrance also used to be celebrated only on May 30, and, as that is my date of birth, each year my grandmother or mother would remind me of the holiday and it's meaning. Which of course I loved. They would always say,
"You were born on Traditional Memorial Day."
In time, it was decided that Memorial Day would officially become the last Monday in May so that federal employees could have a nice 3-day holiday.
For you trivia buffs, here's more.
I hope this weekend finds you remembering, grateful and feeling very proud of those who have served and those who currently serve this great land of ours. #GodBlessAmerica
and…PS: Did you know the President (POTUS) has called us to prayer locally at 11am today? Will you join me?
—Stephanie
Want to receive these to your inbox? Just click here.
And thanks!
May 14th, 2017 by stephanie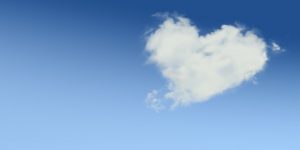 So it's Mother's Day. And, if you're not a mother, or perhaps your own mother is no longer with you, it can be a hard day. It's a day, for which many folks whom I personally know, choose not to attend church or other festivities—as it just makes the day all the more difficult.  With that, I thought of something that might make you smile should that be the case for you on this day.
As I was driving back from the hardware store yesterday with Bosco in the way back, I got to thinking. What if he could send me a card on Mother's Day…If he could, what might that say?
Dear owner/mom:
Thanks for letting me hit you with my big red ball when I am trying to get your attention and make you play with me. You never get mad at me and I am so happy. I especially love when you throw it and I chase it.
I am glad, too, that you don't get too upset when I run up to the top of the hill, hide in the trees, bark, and don't come down when you call. I just think that is so funny. You always give me a treat when I finally do come, and I want you to know that I like that very much.
Thanks too, for how you brush me and clean me up when I come back up after racing around and playing in the yard. You don't just wipe the mud off my nose, you get a damp towel so it comes off easier and nice.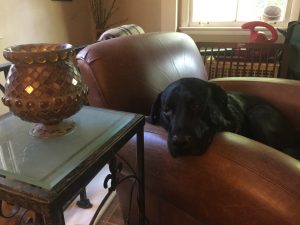 And thank you for the other leather chair that sits next to yours. I like sitting with you each morning while you have prayer time and coffee.
The big green chair in the living room is my favorite. But you know that. You're always nice to open the blinds so that I can look out when you leave the house and while you are gone. And I like that you try to keep me from being lonely, by turning on the TV that has music. Sometimes. You do seem to forget that lately. 
Anyway, I just wanted to say thanks. It's a dog's life, as they say. And I am lucky to call your house my home.
Thanks and Happy Mother's Day.
Your dog, forever.
—Bosco
Want to receive these to your inbox? Just click here.
And thanks!
April 30th, 2017 by stephanie
This was blog was originally published in 2010. It has been brought back to commemorate a holiday we may not all be too sure about….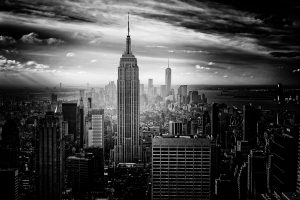 As we walked the sidewalk back to our corporate offices, I can remember being so impressed with this colleague of mine who had actually, at one point in his life, gone to work in Manhattan each day. I was fascinated by his stories and couldn't get enough. It was the stuff that made for television scenes and movie episodes that not only danced in my head but are familiar to us all.
Little did I know, that one day, I too, would be stepping in and out of Manhattan on behalf of the company for which I worked at the time. I loved that job. It was my all-time favorite to this day. But alas, all good things, as they say,"must come to any end." And so they did.
During those fabulous trips to the Big Apple, I marveled at the concrete culture the city dwellers seemed to revel in, if not literally-cherish. I, on the other hand, as I headed out for each trip up north, would take in the vast green lawn and the squirrels skipping about as I backed out of my driveway. In addition, I would suddenly catch myself saying out loud to my house and those beautiful 40-year old towering trees, "Stay right there. I'll be right back!" It became a private tradition of sorts. And, a few days later, I always kept that promise, celebrating it on my deck with Ole Judge, while looking out at the foliage that takes up the entire embankment of my backyard.
Sure. New York was great. But there was just something about the green, and the grass and the…trees. Even a job possibility that came my way in that "city that never sleeps" couldn't quite lure me (and the dog) to the apartment lifestyle of "The City."
That's why ARBOR DAY, I guess, is such a big deal to some folks. Those of you Alaska dwellers, or Michigan and Colorado types, might not quite relate to the importance of such a holiday. But for those folks in the land of pavement, you can see how it can be a pretty big deal.
ARBOR DAY (the Final Friday in April) is actually a real holiday- if you didn't know. But it's not, as you might think, only celebrated in the USA. Nope. It's pretty international. And it's not too new. It was actually founded in 1872 by J. Sterling Morgan of Nebraska. It's a Civic holiday, mind you. A tidbit for you infophiles.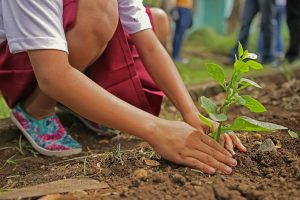 And, here's some trivia to take with you to that upcoming board meeting or coffee chat this week: On the first Arbor Day, April 10, 1872, an estimated one million trees were planted.
And there you have it.
Just my thoughts.
S.
Want to receive these to your inbox? Just click here.
And thanks!
January 1st, 2017 by stephanie
There's a jazz song that is titled, "Peel Me a Grape." How do I know that? Because I sang it when I was with the jazz band…many moons ago.
That being said, I had a dream last night—about grapes.  Well, I had quite a few dreams, actually. My mind doesn't usually stop much. But the final dream was of a ginormous cluster of purple grapes. They were the size of bowling balls. Each grape, that is.
When I woke, I was reminded of  a story in the bible. The children of Israel had finally reached the promised land, and before they went in and took the land, they sent 12 spies to check it out. One man from each tribe.
While the men secretly scoured the area, they became increasingly dumbfounded by what they found. 10 of them returned with a negative report They carried on and on about the size of the people (there were giants in the land and cities with magnificent walls). Two of them, however, came back with a very different take. They couldn't believe the size of the produce. To prove their point, they had cut down one cluster of grapes, put it on a pole, and carried it back between the two of them. It was that huge.
Now, I'd certainly love to think my dream was prophetic. That my year will be momentously fruitful…and who knows. It might be. But I am also old enough to know—life happens. And when it does, just buckle up and ride it out. You WILL get to the other side.
That being said, I decided to do some quick research on the subject, and found something interesting about grapes. I was reminded that most grapevines don't produce fruit until their third season. Basically, saying, that grapevine in your backyard that you have been nurturing can take up to three years before you are able to pluck some grapes. Now, be sure to take into account environmental factors and the care of the plant. But those factors? They are: sunlight, well-drained soil and proper pruning. Selah.
So, what's my point?
Perhaps you have had some personal grapevine in your "backyard" that you have been working on of late. Take hope…with a bit of time and great care, you'll see some fruit. Now, probably not like exactly like that species of grapes that came from the land flowing with milk and honey, but then, one never knows. If anything, you'll certainly see something blossom and that will put a smile on your face.
With that, I'd like to wish you and yours a fruitful and productive 2017. May you drink the fruit of your vine, and may your year be blessed beyond measure.
—S.
Want to receive these to your inbox? Just click here.
And thanks!
November 24th, 2016 by stephanie
Looking for something "new," or,
better yet, something besides politics to chat about at Thanksgiving dinner this year? Why not throw this patriotic piece of trivia into the table conversation mix.
While listening to our pastor at church last night (Thanksgiving eve) I was interested to learn that a woman may have been behind our beloved 4th Thursday in November proclamation made by President Lincoln.
Apparently, Sarah Josepha Hale may be the "woman behind the man" in this particular holiday instance.
Hale, a native New Englander, grew up celebrating Thanksgiving each year and was known for writing published works about the holiday. However, you and I will remember her mostly for penning the children's poem "Mary Had a Little Lamb,"—which in time became a song we grew up singing.
Yet her writing was not merely literary. She was so passionate about this concept of giving thanks that she lobbied state and federal officials requesting they consider passing legislation of a national day built around it. The impetus was in hopes that by doing so, the act would bring the country's citizens together and help alleviate the cultural tensions of the day. Alas, a Civil War soon followed anyway.
You can read more about her story. (I am sure you will have some time to google it today.) But for now, just know you might have a fresh talking point to go with that pie and coffee.
Thankful for you readers, and wishing you a lovely, peaceful and restful day…
-Cheers!
S.
Want to receive these to your inbox? Just click here.
And thanks!
November 28th, 2015 by stephanie
It dawned on me this morning that it's time to dig out the Christmas items. I can't believe the time is here for me to begin decorating the tree this week. Placed on top of  the holiday items that I store,  where I can grab it quickly and not have to dig (something I have learned finally over time) is my advent stuff.
If you don't observe Advent in your home, you might consider it this year.
If it's new to you, here's a quick overview:
The word Advent means "coming" or "arrival."
The focus of the entire season is to be on the celebration of the birth of Jesus, the Christ.
The celebration centers around his first Advent (and the anticipation of the return of Christ the King in his Second Advent.)
Anticipation. Looking and waiting for the coming King. The Anointed One. The Messiah. The hope He will bring.
To Christians, that Hope is the assurance of eternal life.
I have an Advent wreath in my house. This coming Sunday will be the 1st Sunday of Advent. So, in keeping with this tradition I will light the first candle in my advent wreath.
If you aren't aware, each candle has a name. It's interesting to see the variances on that topic. Something for you to google this weekend?
Regardless, why not simply light a candle this week and see it as a reminder that we live in the hope that He has come—and will come again.
Just my thoughts,
S.
Want more? We'll send my blog to your inbox. Just click here. And thanks!
November 26th, 2015 by stephanie
It's a lovely day from where I'm sitting. The sun is shining, the turkey is thawing, the breakfast casserole, the coffee and the bacon are finished (and they were yummy), the pup is enjoying the fantastic weather in the backyard, and I guess one couldn't ask for more. Life is good.
I began the morning assessing all of the "good things" God has done for me, and the wonderful things I enjoy. It's a great way to start any day. Actually, each morning during my "quiet time" I have a leather bound book that I list things God has done for me—things for which to be thankful. A "thanks" journal of sorts.
Yet, with all this sentiment, I have to admit, as I turned on the Macy's Thanksgiving Parade, I did hold my breath. The crowds. The children. New York. Post-Paris events… In the light of the world that we live in these days, we do tend to move forward with a bit fear and trepidation. Life can change in a moment, and you can find yourself living a very different path than the one for which you planned.
Sometimes we live life that way. Holding our breath, waiting for the next proverbial "bad" shoe to drop. We live thinking, If I just don't expect good things, I won't be disappointed. Hmmmm
In truth, if we're honest, life doesn't usually go just as planned anyway—exactly. I'm not sure about you, but when I wake most mornings I think, "Wow…this isn't the life I thought I'd be living. But I'm so blessed. And it's good."
We are told to be grateful in all things. Even when the tough times come and hit hard. Sometimes, that is so easy to do. Other times, not so much. I personally think when people are having a rough go, you listen, let them hurt and just offer a hug, and maybe some good Mexican food. And you stick around. You check in. You walk with them. I am not a fan of asking people to buck-up or get over it. Probably never will be. To get through anything, it takes togetherness. And if truth be told, that's one of the things that our country is celebrating today—being together.
Just like the Pilgrims who landed on our shores quickly discovered that their journey was nothing like the one they could have envisioned or planned for, they stuck it out, held together and in doing that helped to bring forth the nation that we enjoy and love.
If your journey has taken you down paths you didn't expect, just know you are not alone. You've made it this far, and you will make it even farther. I promise. Find or create some togetherness today. And, as you spend time with loved ones, be sure to focus on the good things, and then, celebrate the being together part.
Personally, I think that's the perfect recipe for a fabulous Thanksgiving.
Just my thoughts
S.
PS: Thanks to all of our military and first-responders "on-duty" here and abroad. We are grateful for you today!
Want more? We'll send my blog to your inbox. Just click here. And thanks!
May 25th, 2015 by stephanie
I always like to remind readers that today, Memorial Day,  used to be called Decoration Day. Few are aware of that in these modern times, but isn't that because only few of us have ever been told?
🙂
It may come as a surprise to some, however, Memorial Day used to be a special time set aside for Americans to visit the cemeteries. While there, they would decorate the graves of those who had given their lives in service to this country.
My grandmother and my mother shared that information with me when I was a little girl, so I am fortunate to have known that historic tidbit. But there's a reason for that too.
You see, Memorial Day used to be celebrated only on May 30, and as that is my date of birth, each year my grandmother or mother would remind me of the holiday and it's meaning. Which of course I loved.
They would always say, "You were born on Traditional Memorial Day."
Apparently, as the story goes, the powers that be decided Memorial Day should officially become the last Monday in May so that federal folks could have a 3-day holiday. The rest of us have come to enjoy it too! And now, all of us know the rest of the story (Paul Harvey).
Just my thoughts as we remember, and too, as we bring this 3-day weekend to a close.
🙂
Stephanie
Ecclesiastes 3:8 ESV
A time to love, and a time to hate; a time for war, and a time for peace.
April 23rd, 2015 by stephanie
So, no one wished me Happy Earth Day yesterday. It came and went without even a whimper. But, I, in true holiday fashion wished my colleagues a "happy" day.
This year they celebrated 45 years of this movement. Funny, no one seemed to notice the great remembrance we were "missing". Maybe that's because Earth Day isn't really a big deal?  Hmmmm.
Each year, Earth Day — April 22 — marks the anniversary of what many consider the birth of the modern environmental movement that began in 1970. You know, the era that brought us Jimi Hendrix, hippies, Vietnam and more. Air pollution was at its height and we weren't even familiar with the term "clean environment"…yet.
So, some savvy folks with a cause decided to create Earth Day and get us all moving in the right direction. And there you have it.
If you planted a tree yesterday, picked up trash, groomed a greenway or did something noteworthy that was "green", do let us know. I am sure there were some thoughtful experiences yesterday that ocurred, again, that we missed. But would love to hear about.
Psalm 24: 1-2
The earth is the LORD's, and everything in it.
The world and all its people belong to him.
For he laid the earth's foundation on the seas
and built it on the ocean depths.
🙂
Stephanie
April 4th, 2015 by stephanie
Saturday: The Tomb
That's where Christ was on this day.
Saturday was the Jewish Sabbath. No work would be done from sunset the night before until sunset this night. That is why there was such a rush to have Jesus prepared for burial and placed into the tomb by sunset Friday night (when the Sabbath officially began).
Sabbath was a sacred time set apart for contemplation and complete rest for God's chosen people. (Luke 23:54-56)
Moment to Catch
Ironically, on this day of rest, the Jewish leaders, who should have been at home resting, were anything but quiet. They held a secret meeting and were strategizing…
Matt. 27:62-66
Now on the next day, the day after the preparation, the chief priests and the Pharisees gathered together with Pilate, and said,
"Sir, we remember that when He was still alive that deceiver said, 'After three days I am to rise again.' "Therefore, give orders for the grave to be made secure until the third day, otherwise His disciples may come and steal Him away and say to the people,
'He has risen from the dead,'
and the last deception will be worse than the first."
Pilate said to them, "You have a guard; go, make it as secure as you know how." And they went and made the grave secure, and along with the guard they set a seal on the stone.
Thot for today:
The men who schemed to kill Jesus knew He had powers. They were terrified He would rise. How interesting that they thought a stone could keep Him, the Creator of the Universe, in a grave. Is there an immovable situation or object in your life that you feel hopeless about? If you can work to find the understanding and belief in that same power Christ held that blew that stone off the next morning.
But back to Stone-Cold Saturday…
Not a sound was heard from the tomb. But Sunday was coming…
S.