January 11th, 2020 by stephanie
From the Lessons Learned from Bosco & Bailey series
Some of you may recall the movie The Tail That Wags the Dog. That title, as you might know, comes from a well-known saying.
But it wasn't until I watched my sweet Bailey (my great white Pyrenees) always getting the short end of the stick when Bosco (the black labrador retriever) was present, that I had a revelation and a new twist on the subject of a dog's tail.
Maybe you can relate. Is this happening to you? As I pondered, I began to notice that when both dogs are in the room at the same time, Bailey, for some reason, always ends up behind Bosco, his tail constantly batting her in the face. He inevitably positions himself in front of her, and in any given situation, maneuvers her gently behind him.
Now, Bosco is a lab, and if you know that breed, they wag their tails even when you scold them. They are just happy dogs, and I've even come to nickname Bosco "Mr. Happy."
But it certainly can't be pleasant if you're the one experiencing the wake of a tail on a regular basis.
Perhaps someone in your life, well-meaning or not, inevitably, in any situation continues to end up ahead of you, or in the lead. It might be fate, it might be intentional, but regardless—you constantly find yourself behind them receiving nothing but the effects of their tail in your face. Frustrating, no?
Bailey, mind you, seems to accept it simply knowing that Bosco is friendly fire. We humans, however? Well, that's another story. We tend to let it eat at us.
Maybe that's what Prince Harry of England has felt on more than one occasion? Which brings to mind the story of another prince. He was direct in line for the throne but always found himself in the wake of his best friend, who in the end actually became king!
Fortunately, for Prince Jonathan, he, like Bailey, knew it was not intentional. They were besties, but David somehow always managed to come out ahead and in the lead. Still, it had to be irritating, and the prince's composure in the situation has to be noted and admired.
Are you experiencing this type of scenario of late? If so, are you are in the wake of someone who does it intentionally? Now that's a different story. We question why. We get angry. Then bitter. Then more. Perhaps we even consider or contemplate some type of revenge or vengeance.
In times like those, we ask, "What is the best plan of action or attack?" It's hard to say. But we all know that fighting fire with fire doesn't usually end up well. Both sides usually experience casualties of some sort.
So what's a human to do? Well, like Bailey and Jonathan, you can accept that the well-meaning one in front of you has no earthly idea what they are putting you through on a daily basis—and simply focus on the relationship. Or, you and Bailey might one day just have enough and snap. But I hope you both don't. Perhaps a gentle conversation when the moment is right so that you don't pop is in the stars. Trust me, you'll know when that window of opportunity arises. If it does, take it.
But for those of you experiencing the nasty strategic face beating, perhaps this might help…if just for today. Here are some thoughts:
Those folks with ill intent are rarely popular with the masses. In the end, when the chips are down, they tend not to have a lot of friends who are there for them. (Their doing. Their loss.)
When you come down to their level, you did just that…you came down. Suggestion? Don't.
For those of you who believe in the power of the Almighty, these two passages might be encouraging as you ponder your next "I've had enough" moment. (Old Testament here, or New Testament here.)
Whatever the case, I hope our time together today has brought you some clarity, encouragement, or perhaps to new thought. If anything, the stories I shared may have a few nuggets of wisdom that speak to you. Either way, I'd love to hear from you.
Just my thoughts on this day.
— Stephanie
If you'd like to receive the latest blog to your inbox, simply click here!
For questions or comments: email us at info@stephaniehuffman.org
Single? Know someone who is? Don't let them go another day without a copy of Stephanie's book When You Grow Up & Get Single. It's available in paperback, kindle and iBooks!
March 12th, 2017 by stephanie
As Bosco and I made our way to the kitchen for our morning ritual, I flipped the switch on the coffee pot and reached for the dog bowl in order to prepare his breakfast.
When I opened the cabinet to extract my coffee cup and looked out the window, it started. There it came…snow…in March. Big, fluffy, lovely snowflakes fell to the ground and began covering my deck and yard. It was just as my neighbor had predicted the night before.
As I stepped outside to take it all in, the birds began chirping at me as if to say, "Hey, lady, you're going to need to feed us today. It's snowing, you know."
When you think of the South, the first thing that comes to mind is definitely not snow. It does, however, grace us, but not enough for the state to warrant purchasing, maintaining, and storing a fleet of equipment to manage the roads and more. With that, snow in the south is taken very seriously. At least, here in the Nashville area. One inch has been known to shut down certain areas of the city.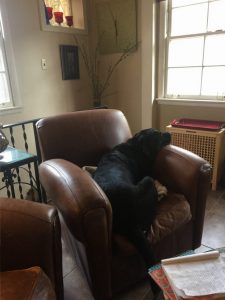 But snow in Spring is just not known to happen. So when it fell on the blooming tree outside my window, I decided to light the candles, grab my laptop, and settle in for a lovely, what we call here, "snow day." Bosco seemed to agree with the idea.
And then, as quickly as it came—it left. By 2pm it had melted and the dreamy, grayish morning had morphed into a sunny afternoon.
It reminded me that life events are like that. Some good. Some not so good. "Things happen," is a common saying these days. When they do, we can either shut down, get upset, or simply settle in and ride it out. The sun will eventually come out. It's just a matter of time.
I experienced that exact situation on my snowy morning. The day I had planned was hijacked by a "moment." I fretted and strained, only to realize later that afternoon it was working towards resolution due to the graciousness of a third party. Just like the snow that was melting on my deck, the problem at hand was slowly disappearing as well.
I wish I didn't let "life" get to me like it does. I am old enough now that I should know better. However, human as I am, I find myself still working on the "basics."
If you are stressing over something today, I hope this passage will encourage you.
By the way, I didn't feed the birds. They're out there now in full force, and they seem to be doing just fine.
Selah.
—Just my thoughts.
S.
Want to receive these to your inbox? Just click here.
And thanks!
February 26th, 2017 by stephanie
Heading over to the gun range, I was a bit excited, and apprehensive, at the same time. Having not practiced for what seems to be about a year, I knew my familiarity with my Bersa 380 and my skills were both quite rusty. But my basket was packed and was holding my pink eyewear, my gun case, and my rolled up targets. I at least looked like I belonged. I think. Somewhat. I imagine the pros could spot me a mile away and were thinking to themselves, warning: rookie on deck. 
It was a new location to me. However, when I saw the lounge, the free coffee, the cold beverages and the big leather chairs, I knew I'd come to the right place. I headed to the counter to reserve my range, settled in for the safety video, signed the online waiver, and then waited.
Once all of the above were completed, I realized the clock was ticking and I'd better head over to select my ammo. After a nice chat with the man at the counter, I headed back to the lounge. And waited some more. I took that opportunity to watch some YouTube videos on my particular gun piece, some loading tips, and then realized…I have been here an hour and a half. What's up?
With that, I headed back to the reservation area. "You can remove my name from the waiting list," I stated. The not-so-eager or helpful assistant asked my name a couple of times and seemed to be annoyed. It was then he realized in his system how long I'd been there. "Oh," he suddenly offered, "I can get you in now."
Really? Why now? I mused.
"No thanks. I need to go," I replied rather flatly.
With that I turned to head to the ammo area to return my would be purchase. That's when he stopped me and said, "Wait!" He was scrambling for something and was offering it to me. "Here's a free range hour on us."
I paused, then received the small card. "Ok, thanks." I then left. I was not a happy camper.
That's when it hit me.
Why are you upset? Sure, you waited. But you just got a free trip to the range! That's cool You may have spent your time today in a way you hadn't planned, but you got quite a bit accomplished during your visit. (The ability to work remotely on our phones these days can be a blessing for moments such as these.)
The steam began to cool and my shoulders lowered as I drove away talking myself into a namaste calm.
That's when the point was driven home.
Why do we get upset when delays or disruptions happen? It doesn't solve the problem at hand. And, too, showing our emotions can, and often does, ruin the moment. Or the relationship.
I was reminded of a story where a couple that were moving a mattress were in the elevator heading down to the street when it stopped. They were delayed over an hour waiting for help to come. When they finally got outside, they looked up only to see a 3-year old playing on a balcony above them. They tried to talk the toddler inside, but the autistic child could not understand their words. He came tumbling down—right after they'd hurriedly moved the mattress under his playing area, only to catch him—just in time.
Now, if they'd fumed, and demanded their way, or been ugly, imagine how silly they would have felt only to realize, that exact delay was what turned into an opportunity to save a child's life.
Coincidence? I think not.
The point?
Maybe delays and disruptions aren't something to look at as negative or so awful. Maybe we need to just ride them out and look forward to something good to happen on the other side.
For me, staying calm, at least on the outside that day, landed me a free trip back to the range. If I'd thrown a fit, that may not have happened. And truth be told, I needed time to check out the new facility, learn the ropes there, and get reacquainted with my neglected firearm anyway.
For that couple who were moving, they unexpectedly kept a family from tragedy.
I hope this thought will carry into this week with you. If you have a divine delay or disruption, I'd love to hear about it.
Email it to: info@stephaniehuffman.org
—Just my thoughts.
S.
Want to receive these to your inbox? Just click here.
And thanks!
January 29th, 2017 by stephanie
When I first moved to Nashville, in an attempt to meet more people and at the encouragement of my grandmother, I joined a club. Those people were a wonderful group who not only became friends, in time they became like family. We shared many happy and amazing memories together, and there were moments where we had the privilege of experiencing and witnessing some very historic events.
But to my point. I ended up on the board of this illustrious group and I must admit, many times their talents and abilities left me feeling quite inadequate. Not only could they debate, quite well, they knew Robert's Rules of Order. Parliamentary Procedure was something I had heard of often in my life, but as to what it truly was, or how to follow it in a meeting? I had no clue!
At some point, during any of our meetings, there would always be a moment when someone would "Call the question." For years, that term alluded me. We are sitting here discussing a decision that needs to be made and people are arguing both sides. What on earth is the question? I would think to myself. My brain just couldn't seem to wrap around the meaning. Those were my thoughts. Until lately.
The power of that simple "rule" hit me recently. Isn't it funny how years later, dots just seem to connect and things that once weren't clear suddenly make sense? Yeah, that happened.
So, Calling the Question? It's a moment in discussion that is truly a remarkable blessing given to civilized nations.
Basically: when discussing a topic, at some point, debate needs to end. You need to agree to end the debate and move toward the vote. You vote to end the discussion. Then, after the vote, that is when you ask the question: "Will we or won't we do, or agree to, this or that?"
In regards to the topic at hand, you are asking which of the two options on the table are best. Unfortunately, when these rules aren't followed, one person in the room usually ends up pushing their opinion and demanding their way. Or, pouting when they don't get it.
These days, we could use a bit of decorum, or at least a return to structure, in our conversations or dialogues. It seems we have forgotten how to share our point of view in a pleasant or positive way. Protocol or discernment seems to be a way of the past. But more importantly, rather than asking questions, people just state their opinions. No one "asks" the other person to explain. Then, allows them the time and dignity to do so.
What has truly been lost is looking at an entire situation at hand, weighing the facts on both sides, having healthy debate, then, deciding what is the best decision…for the good of the order. "Should we go with Option A or is Option B best at this point in time?"
I'm reminded of situations in my life where I wish I would have asked for more facts before rushing to judgment, or where I wish the person angrily sitting across from me had acquired some truthful information before making their attack on me.
You may know what I'm talking about. You may even be in the middle of a situation at this time that drives this lesson home or at least brings it to mind.
With that, let's commit this week to:
Not jumping the gun before truly looking at the facts,
Not pushing our viewpoint on someone before we ask for the other side,
And not blocking out or ignoring the opposing party when it's their turn to talk.
Then, once all of the facts are on the table, and all sides have thoroughly been heard…
—let's call the question.
The best answer, at that point, might actually surprise us.
—Just my thoughts.
S.
Want to receive these to your inbox? Just click here.
And thanks!
January 8th, 2017 by stephanie
I was listening to a story being told, and found myself drawn in with each passing sentence from the orator. It was a story of a boy who came from a home where the father was absent, and if the mother was not in a psychiatric ward, she was in jail, or with a boyfriend. Apparently, she even left her son at a bus stop one day to be with her boyfriend. Many times he was homeless and had to steal food to survive.
A school counselor began to sense the problem and took a strong interest in him. When he dropped out of junior high, she began praying for his return. Two years later, he walked through the doors again to begin 9th grade.
In time, he found a job mowing the lawn of an elderly couple. As they learned his story, they opened their home to him. When they discovered he had musical talent, they encouraged him to begin entering contests and more—the woman of the house was always present and in the front row with her bible.

What shocked me to learn was this person was country artist Jimmy Wayne, known for the hit song "Do You Believe Me Now".
Stories such as these can truly put your problems into perspective, and too, encourage each of us that any adversity or problem, can, in time, be overcome.
If you're struggling today with a situation or circumstances that seem impossible, perhaps this life story will be an encouragement to you.
—S.
Want to receive these to your inbox? Just click here.
And thanks!
September 25th, 2016 by stephanie
A girlfriend and I were chatting this past week. She'd had a bizarre encounter with a client who is also a friend. Let's just say it was very stressful. In the end, actually, it was just plain weird. We both left the conversation shaking our heads.
We humans are an interesting lot. Sometimes, we even scratch our heads in wonder thinking, What just happened? "People these days are just crazy!" we often find ourselves saying out loud.
I've been reading in the book of Judges lately, and I have been reminded, this problem is not a new phenomenon.
I never cease to be amazed by the stories in that Old Testament book.(And believe me, there are plenty in there to leave you in wonderment.) One in particular, however, stood out to me recently.
The one I am choosing to chat about this week, however,  goes like this…
Jephthah is the child of a man via his prostitute.
This particular man also has a wife, who has children with him.
Therefore, Jephthah has step brothers and sisters. The siblings, obviously, don't want their illegitimate brother to get any of the inheritance, and they are very clear about that point. So much so, that  they basically chase him out of town until he goes to live elsewhere. While there, in elsewhere, he accumulates a little band of brothers.
Meanwhile, back at the ranch, so to speak, the enemies of his people have descended, and the elders of the town run to find Jephthah and call him back to come and save them.
J's response?
"You've got to be kidding me!"
[Well, probably not those exact words, but pretty close.]
Anyway, long story short, Jephthah, the  man warrior, takes on the bad guys, goes to war with them, and wins. Yay! Right?
No, not so fast.
While there should have been singing and dancing in the streets, instead, fellow tribesmen, from his people, hunt down Jephthah to chew him out. Whuh?
Yep…they are mad because Jephthahv didn't come and get them and ask them to go to war with him.
ummm….seriously?
He reminds them that he did indeed ask them to join him, but they refused!
No words.
So, here's the deal, in my humble opinion:
1. We humans are greedy and self-centered at our core. It just comes, sadly, all too naturally.  (AKA J's siblings)
2. We, as people, love to complain when troubles come. And when they do, we go and try to find people to help us out of our situation, or at the least, to take our side.(Like J's howmetown when they found themselves in trouble)
3. When a person does step in, takes charge, and is victorious, we tend to get jealous. It seems we all want to be part of the winning team. (Victor over the enemy/the one who solves the problem and gets the praise and attention is suddenly our best friend.)
Point of the story?
We have't evolved much, really, as a people since ancient times. Human nature (something we can't see or touch) seems to be replicating itself very well.
Tip?
We shouldn't be shocked or surprised, by bad behavior or painful circumstances when they arrive. Stuff  happens.
Solution?
There isn't a pill you can take to cure it or a vaccination to keep it away. It requires something non-physical to combat this non-physical problem. We'll talk about that more in the coming days. But for a preview click here.
And there you have it; your everyday thought for your upcoming everyday week.
– S.
To read the story mentioned above for yourself, simply click here.
Email me at: info@stephaniehuffman.org
Want to receive these to your inbox? Just click here. And thanks!