April 11th, 2020 by stephanie
"What's the point?"
I was just wrapping up my last Zoom virtual session of the day when the text came through. I hadn't really looked at it until I hit the End Meeting button. When I did, it read: "I am leaving something on your front porch."
In this time of self isolation, obviously, interaction with a real person is golden. I raced to the door…had I missed her? Was I too late?
Fortunately, she was just unloading. Whew! That's when she came around from the back of the car with a most gorgeous flowering plant. And it was for me! How thoughtful!
As we both made our way to the front porch positioning ourselves the mandatory six feet away per CDC guidelines, we enjoyed the gorgeous afternoon sun while we caught up–in person!  A delicious treat these pandemic ridden days.
We chatted of course about the current situation that we as world have found ourselves in and then segued into how it has been affecting us. For her, it had been a spiritual transformation of late. She realized that the things she had been focusing on, just a month prior, were now seen as nothing but shallow and frivolous when viewing them in the light of our new way of life. It was a true revelation to her, and one she was proud to share. She'd seen the light so to speak.
That's then I made the statement, "We as a world have been on a hamster wheel to nowhere. And it stopped."
She couldn't agree more responding that was exactly how she has felt. "I was on that wheel…and for what?" Going back wasn't an option. She'd changed.
Basically, we as a world had been spending our time, energy and resources running to get bigger and better personally, professionally, and financially…but for what?
Though these days have truly been horrific for some, others meanwhile are rediscovering their family, their friends, their neighbors, and yes, even their pets!
As difficult as this historic season has been, deep down, I quietly believe we will miss a bit of this forced lifestyle of seclusion when it's gone. Not the death or the fear, or the empty store shelves, nor the masks and the gloves, but the unification of a planet with one common goal. Defeating an unseen enemy. All on the same page. If anything, for one short period of time. Something my generation, and those behind me, have not truly experienced (Thought some might argue 9/11 might fit the bill.) The new memories we're building of re-learning how to shop, cook, and even clean are noteworthy! Time spent together taking walks, sitting around the table or just getting to know each other in new ways, for some, will be priceless.
We will talk about these days until we die. And those of us who live to tell will all nod our heads and roll our eyes together when the subject comes up. Just think about it, this has provided us all at least one thing we have in common, one topic we can talk about together and remember. Something that brings us…together. And I can't think of anything more powerful, or positive right now, than that.
Just my thoughts.
— Stephanie
If you'd like to receive the latest blog to your inbox, simply click here!
For questions or comments: email us at info@stephaniehuffman.org
Single? Know someone who is? Don't let them go another day without a copy of Stephanie's book When You Grow Up & Get Single. It's available in paperback, kindle and iBooks!
June 4th, 2017 by stephanie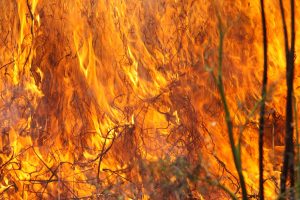 It was just a typical end of day chat with one of my main team members. While on the phone, walking around talking, I heard a loud noise. Turning to look in the direction from whence it came, I suddenly realized I was staring at flames.
The house behind mine was ablaze and the canopy of trees that surrounded my backyard was connected to those very trees that loomed above that house. Should they too catch fire, my home and my neighbors, which shared that lovely collection of foliage, would likely be engulfed in flames soon as well.
What happened next I can't explain, but for some reason, it was a natural reaction. The memory of my father hosing down the roof of our house when I was a very young child during a similar event popped into my mind, and I simply recreated that scene.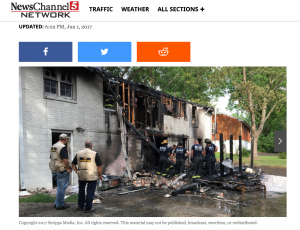 Running out to the deck, I dug for my garden hose and began spraying what trees and shrubs I could that stood between me and the flames behind me. Once the trees above caught fire, there would be nothing I could do. Especially once they fell and landed on the roof of my house. However, for some reason, I just kept at it. Manipulating the hose with one hand, and calling 911 with the other, I went into what action I could.
Oddly, my dog, who had exited out the kitchen door ran straight towards the flames. He had a buddy in that house, Franklin, and I guess his dog instincts kicked into gear. Spraying, shouting back and forth with neighbors, and screaming at my dog to come away from the flames at the top of the hill, I was once again grateful for the fence I had added to the treeline when he was but a puppy. It was still intact and holding my lab securely inside my yard. But if a tree caught fire and fell, trapping him, there was nothing I could do about him either.
It was then that I noticed the gas cans sitting at the edge of my neighbor's patio, near their shrubs that backed up to the same potential fiery hill. They were on the other side of my fence and beyond my reach. Once the homeowner emerged, I yelled to her and the cans were removed avoiding any incoming or rogue flames.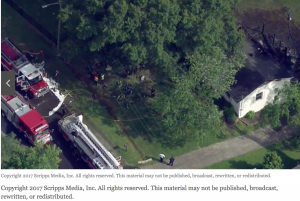 At some point in that mix, the firefighters arrived. And within moments, the flames were gone. Their reaction was tight, quiet, and effective. I was once again amazed by the country I live in. So organized. Talented. Able. And I was eternally grateful to be a citizen right here in the good ole U S of A. My taxes at work to be sure.
Putting  down the silly hose that could not have saved me, I noticed my neighbors to my right were sitting on their patio watching the firemen work.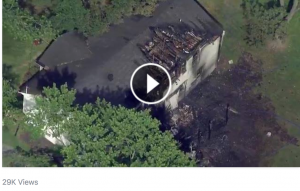 I, too, sat down finally on my deck and watched as the news helicopter above continued circling as it had for the past 15 minutes or so. Ironically, though I could not see anything through the trees, I found I could watch everything via Facebook, and live, from my deck. Such an odd era we live.
It was over. But sadly, for my neighbors, who had just finished remodeling that home, it was now just the beginning.
Once the firemen left, I got in the car, still barefoot as I had been through the entire ordeal, and drove around to their house. There they stood, staring at the destruction. By God's grace neither they, nor Franklin, were home during the fiasco. It could have been a very different story. A fire is probably something that never had crossed their minds.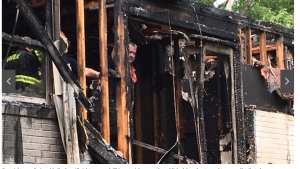 Life is like that. You think about the things that you fear might happen. You try to plan and figure in advance. But oddly, it's what you never saw coming that hits you from behind. As much as we try to protect ourselves from pain or problems, you just have to realize that the reality is—you can't. Once you find yourself standing in the rubble of what was once the life you planned, now very altered, you simply have to pick up the pieces, rebuild, and begin anew.
If you recognize that type of scenario in your life, if you know the pain of a personal destruction that you have faced or are facing, you must hear this—you are not the first, and you won't be the last person to experience this moment. Most importantly, you will survive. You will come out on the other side. And you will be ok. Perhaps, you will even find it to be a much better life than the one you could have orchestrated or planned prior.
On this day, I wish you health, happiness and a home free of life's flames. But should they come, and they most likely will, allow those around you who do come to your rescue to do their job. Listen, stay out of the way, accept their hugs, then pick up your hammer, and rebuild.
I've been there. I understand. And I, too, lived to tell.
Selah.
—Stephanie
The LORD is close to the brokenhearted; he rescues those whose spirits are crushed. Ps. 34:18 (NLT)
Want to receive these to your inbox? Just click here.
And thanks!
April 2nd, 2017 by stephanie
I'd never heard of the university. It had an odd name, and I thought the request for my client to speak there was something that would fade away. An interesting gentleman who kept calling and emailing our offices, however, had other plans. He persisted, worked his contacts, and in time, the date was scheduled and our flights were booked.
That week, Gonzaga University would make the cut for the playoffs in the Final Four. As I packed my luggage for our trip the next morning, I was able to watch the very game that the Zags would not only win, but that would send them to Phoenix. It was exciting.
This was all happening during March Madness. And it was historic. Since opening their doors in 1887, Gonzaga U had never had a national championship. It was a miraculous time for them, to say the least.
Once on their campus, I enjoyed absorbing the environment that had produced this stellar team and student body."Why would I have the privilege of being a part of this amazing week for them?"  And too…"What is God doing or thinking when moments like these, so serendipitous, occur?" I knew I would jot down my thoughts as soon as my schedule calmed down.
Upon returning home, I was able to watch them win again. This game now sending them into the Final Two. As we had received some lovely "swag" from the university upon our arrival, I could now cheer them on in style.
Earlier that morning, the lawn service had come to the house. I had randomly googled, then called, a company the day I returned home from my trip. They said they could come on Saturday as they would actually be in my area. Imagine my surprise when after finishing my yard, they also mowed the house two doors down to my right, and then another house two doors down to my left before heading off to their next rounds. Ironic? Serendipity again? I think not.
I am truly amazed at those moments where God intervenes quietly, and I have no idea how or why. But I just know that He did "it" or handled something for me. Not because I was a good girl that week, but simply because He chose to show His power—and I may never know the answer as to the "why?"
One thing I do know, it's an opportunity to be reminded of how big He is, how indiscernible He is, and to simply offer gratitude and thanks.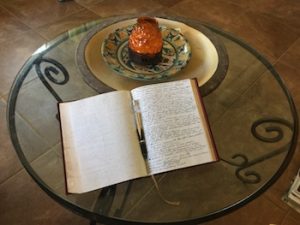 If you experience a "God" moment this week similar to what I have described above, why not write it down? Make note of it. And if you can, continue to make note of those moments in the coming days. I have a lovely journal that I simply jot a line in when those moments occur.  I try to write down at least one or two each morning. I list those things that I know only God could have orchestrated. And to simply give thanks. It's a wonderful way to start the day. Just so you know, I call it my Book of Gratitude. I hope you will consider starting one of your own. Even if it's a google doc on your cell phone. 🙂
Just my thoughts.
S.
Want to receive these to your inbox? Just click here.
And thanks!
January 8th, 2017 by stephanie
I was listening to a story being told, and found myself drawn in with each passing sentence from the orator. It was a story of a boy who came from a home where the father was absent, and if the mother was not in a psychiatric ward, she was in jail, or with a boyfriend. Apparently, she even left her son at a bus stop one day to be with her boyfriend. Many times he was homeless and had to steal food to survive.
A school counselor began to sense the problem and took a strong interest in him. When he dropped out of junior high, she began praying for his return. Two years later, he walked through the doors again to begin 9th grade.
In time, he found a job mowing the lawn of an elderly couple. As they learned his story, they opened their home to him. When they discovered he had musical talent, they encouraged him to begin entering contests and more—the woman of the house was always present and in the front row with her bible.

What shocked me to learn was this person was country artist Jimmy Wayne, known for the hit song "Do You Believe Me Now".
Stories such as these can truly put your problems into perspective, and too, encourage each of us that any adversity or problem, can, in time, be overcome.
If you're struggling today with a situation or circumstances that seem impossible, perhaps this life story will be an encouragement to you.
—S.
Want to receive these to your inbox? Just click here.
And thanks!
January 1st, 2017 by stephanie
There's a jazz song that is titled, "Peel Me a Grape." How do I know that? Because I sang it when I was with the jazz band…many moons ago.
That being said, I had a dream last night—about grapes.  Well, I had quite a few dreams, actually. My mind doesn't usually stop much. But the final dream was of a ginormous cluster of purple grapes. They were the size of bowling balls. Each grape, that is.
When I woke, I was reminded of  a story in the bible. The children of Israel had finally reached the promised land, and before they went in and took the land, they sent 12 spies to check it out. One man from each tribe.
While the men secretly scoured the area, they became increasingly dumbfounded by what they found. 10 of them returned with a negative report They carried on and on about the size of the people (there were giants in the land and cities with magnificent walls). Two of them, however, came back with a very different take. They couldn't believe the size of the produce. To prove their point, they had cut down one cluster of grapes, put it on a pole, and carried it back between the two of them. It was that huge.
Now, I'd certainly love to think my dream was prophetic. That my year will be momentously fruitful…and who knows. It might be. But I am also old enough to know—life happens. And when it does, just buckle up and ride it out. You WILL get to the other side.
That being said, I decided to do some quick research on the subject, and found something interesting about grapes. I was reminded that most grapevines don't produce fruit until their third season. Basically, saying, that grapevine in your backyard that you have been nurturing can take up to three years before you are able to pluck some grapes. Now, be sure to take into account environmental factors and the care of the plant. But those factors? They are: sunlight, well-drained soil and proper pruning. Selah.
So, what's my point?
Perhaps you have had some personal grapevine in your "backyard" that you have been working on of late. Take hope…with a bit of time and great care, you'll see some fruit. Now, probably not like exactly like that species of grapes that came from the land flowing with milk and honey, but then, one never knows. If anything, you'll certainly see something blossom and that will put a smile on your face.
With that, I'd like to wish you and yours a fruitful and productive 2017. May you drink the fruit of your vine, and may your year be blessed beyond measure.
—S.
Want to receive these to your inbox? Just click here.
And thanks!
March 15th, 2015 by stephanie
We live in a culture, at least in 1st world countries, where you can pull your car up, order a super-sized option, and drive away with what you requested, immediately meeting your wants…(forget your needs). It's all about gratification. We can upgrade (or trade-in) most anything these days at any time. And we're used to that. We expect it and we're, in all honesty, a bit cocky about it—getting our way on demand, that is.
But have you ever found yourself in a place where you weren't getting what you want. Perhaps, you woke up one morning only to find that what you once loved, or cared for, had been stripped away. Never to be seen, or heard from, again?
That's what happened to Job.
He was minding his own business, and then in one day, he lost everything. Gone. Without a trace. And no explanation, or "word" from the Lord on the matter. Just silence…and deep pain. Clueless as to the grand master plan that was going on in the super natural world behind the scenes, as beautifully played out, in Chapter 1 of the book that boasts his name.
Job's "godly" friends sat around him, waxing eloquent, trying to explain to him why this had happened to him and what he'd done to bring it all upon himself.  And too, what he needed to do to fix it and how he needed to handle himself while going through this horrific ordeal. (So easy to tell someone how to feel or what to do when we aren't the one hurting.)
Funny how those "words of wisdom" didn't take away Job's agony. They only made it worse.
One thing I hadn't noticed before in the last chapter was a particular verse (Job 42:10). Not sure how I have missed that my whole life, but here it is…
When Job prayed for his friends, the Lord restored his fortunes.
In fact, the Lord gave him twice as much as before.
Job 42:10
Did you catch that, when Job prayed for his "friends"…yep, the ones who criticized him while he was down and out, the ones who abandoned him in his time of need, who didn't want to deal with his mess…those "friends." I honestly don't know how he did it. But yet, I do.
God and Job had just had a little…no big, "Come to Jesus meeting" as they say here in the South…and Job had nothing left. Remember, in fairness, God never let Job in on the "By the way, I threw you to the proverbial lion," scenario. But, Job realized who God was after that chat, he saw his own humanness, and had one of those, "I got nuthin' " moments.
God also chewed out those "friends" of Job's and let them have it as well.
Perhaps, when Job saw that, maybe that is when he prayed for them. Interesting. I guess at that moment, they were all on the same playing field. No one of them was any "better" or "godlier" than the other. They were on one side of God, and He was on His throne—staring back at all of them. A bit disconcerting I might add.
Anyway, after that, God super-sized Job's blessings. I don't recall Job even placing an order? But he got one. And it was a whopper (pun intended). Everything he'd ever once owned, or had, was doubled. If you look close, you'll see that he even lived an extra 140 years after the fact so that he was given time to enjoy it all.
Now that's a cool story.
If you're in a tough spot in life and can't figure out "why" (or know someone who is) perhaps take a moment to look at the first and last chapters of Job.  It might shed some light on the situation, or if even for a bit, bring some fresh perspective to the matter—to all parties involved. Jus' sayin'.
🙂
Just my thoughts,
S.
If you'd like to know when the latest blogs comes out, we'll send it to your inbox. Just click here!
I'd love to invite you to follow me on Twitter and Facebook
December 23rd, 2014 by stephanie
Words from a saint…or so, they say…
There's a passage from the Apostle Paul (known as Saint Paul to some) that is so poignant for this time of year. Whether 2014 was a banner year for you, or perhaps more of a challenge, the Scriptures teach us to keep moving forward.
That's such a healthy mindset.
When you talk to people who have "overcome" you ask them how they did it and they will tell you, "I just put one foot in front of the other. I kept moving forward."
For those of you experiencing difficult times during this holiday season, may I offer you this piece of advice that fell my way this year: millimeter shifts.
Just like the concept of compounding interest…if you simply make minor adjustments and movements, and keep going, you'll be able to turn around at some point, and realize the progress you have made. Not only that, the view may quite surprise you.
Embrace the journey my friend. And see you on the other side…2015!
Here's to what has been, is, and what is to come.
Just my thoughts,
S.
We'll send my latest blog to your inbox. Just sign up here!
And I'd love for you to join me on Facebook and Twitter.