August 24th, 2013 by stephanie
I had the privilege a few years back to be a part of the taping for a television show they were creating about men and women. 13 shows were taped in four days. Yep. It was crazy.
The process goes something like this:
A show is taped. You go and change clothes. And you start all over again.
The star of the show was a marriage seminar leader and pastor from Wisconsin, Mark Gungar.. Not a household name, as yet, but hilarious. He was engaging, funny, and easy to listen to. If there is one thing this guy has down, it is getting the male population to "tune in" to what he is saying and connect! And too, he makes some great points to the women in the audience.
Basically, we girls just plain don't get men, as we know. But what we forget, is that half the time, we punish men for not "thinking" like women, not "understanding" women, not "relating" to women, you get the picture. All the while forgetting they are NOT women.
It saddens me that my generation of women missed out on the tutoring from older women that guys and gals are different. And that it's ok. That it's not something to fight, but rather understand and embrace. But nope. We were the generation of unisex haircuts and clothing. It was cool to be "alike". To prove that we were the equal. Differences were an "archaic" way of thinking. And we were above that. hmmmmmmm
We can see how well that worked. The divorce rate and homosexuality skyrocketed during that period of time, families fractured, and the list goes on. We were left wondering why and how this could have happened. What went wrong during this modern, intellectual way of thinking?
It's pretty easy. The Bible has lasted for a few thousand years. Its principles (which are often deemed outdated and unrealistic) were tossed out. We would find a better way. But, I do wonder. Have we?
My challenge to you this week is just to simply strive to notice the differences in men and women. Embrace them. And work to understand them. It can be a beautiful thing.
Life's good. Let's work to make it even better.
S.
November 3rd, 2011 by stephanie
So… an online magazine in Canada was kind enough to do the nicest review of my book…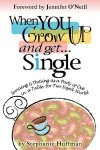 If you hadn't heard by now, yes, I wrote a book. And I wrote it to give the Single Person a smile, a laugh and a pat on the back. It's a fun read, or so…I am often told. 🙂
As we enter the holiday season, this a great, considerate, encouraging gift for that single person in your life or that friend who is struggling with the Single Season they are finding themselves in. Maybe it's you.
Whatever the case, the book touches on most every area of life. From how to make a new group of friends and keep them, to dealing with family over the holidays. Pets that are our "kids", caring for the elderly while "alone"…and it that's not enough, I've included an entire section on YOU and your goals and dreams. I have some little tests or worksheet type things that make you take a real look at where you, where you'd like to be and where you should be going.
I hope you will share this book with a friend, even if you only read it for yourself. It's a FAST, fun read. I promise.
You have some options:
And here's the kind Canadian review. Be sure you find it on page 32 if you get lost in linkville…
Thanks again to so many of you for your amazing support of this project. Appreciate you!
Hugs,
S.
Faith Filled Familly Review:
http://issuu.com/michelledanko/docs/fall_2011anniv/32#print
May 13th, 2010 by stephanie
For those of you that watch the Weather Channel, you were quite aware, no matter what part of the country you live in, that during the first weekend in May, Nashville recieved 3 months of rain in a 48 hour period.
I will never forget turning on the TV that Sunday afternoon, only to see the subdivision where one of my Single Gal friends lived was up to the roof tops in water! I was horrified. I kept flipping the channels while saying out loud, "This can't be right." I placed a few frantic calls to her — but no answer.
When I did finally hear from her the next day, the worst was confirmed. She had fled her condo. Her car was a complete loss, and so was the entire first floor of her home. I was in shock. "It happened so fast!" Was all I heard all over Nashville.
Later I learned of another single gal that too lost her car and her condo. Then, news came in of yet another single gal – that lost it all.
It's hard to hear that news. Especially when the water stopped 100 feet from my basement. You feel guilty. And you wonder why you were spared. But then I realized perhaps why: to be in a position to assist those in need. And so, with that, the Chix Chat Club is proud to present to you the SOLO SISTER'S RELIEF FUND.
If like me, you are quietly amazed and grateful that you were spared, but looking for a way to assist, perhaps this will be the venue that you choose. We look forward to assisting these ladies. We hope that if you are able, you will join us. Stay tuned. We will keep you posted in the days ahead.
TO DONATE AND BE A PART: click here
or simply click on the RELIEF tab at the top of this page.
Best to you,
Stephanie
April 17th, 2010 by stephanie
I met Nancy at a meeting where I was speaking. She was a delight and was very willing to give me feedback on my presentation. Which I thought was very thoughtful. And I appreciated it. Nancy is a speaker herself, a writer and a new author. I asked Nancy to write a GUEST BLOG. Here it is. Enjoy!
A Call to Women: Redefining Happiness
By Nancy Reece
"Are women really less happy?" is the question asked by Naomi Wolf in the March 2010 edition of More magazine. Having observed that women were "happier" in the 40's and 50's when they were focused on the greater good, Wolf comes to three conclusions as to why women today are less satisfied:
1) Women have developed a habit of seeing and talking about what's wrong because feminism taught women to be discontent.
2) French existentialism in the feminist movement promoted self and personal choice as the source of life's meaning, and
3) We need to redefine happiness today as using one's fullest capacities in the service of the larger good.
Unfortunately, Wolf left out of her discussion a key issue – faith. If existentialism teaches that there is no inherent meaning in life and so it's all up to us, I would expect women to feel less satisfied or happy because they have been convinced "It's all about me". This is diametrically opposed to what Christ teaches –that we are here to love and serve our fellow man and woman – putting others first before ourselves. Wolf got it right in one respect – we do need to redefine happiness, but doing so without Christ in the center will only lead to more frustration. There is a better way! "May the God of hope fill you with all joy and peace in believing, so that by the power of the Holy Spirit you may abound in hope." Romans 15:13 ESV
Just Nancy's Thoughts. Yours?
S.
March 1st, 2010 by stephanie
Greetings:
To all Living with Joy Radio Listeners. If this is your first visit, WE WELCOME YOU!
We hope you enjoyed Phil Waldrep's interview with Stephanie on Living with Joy Radio! If you missed the airing, we've arranged to provide the links here for the 2-part program which aired March 1st & 2nd.
PART 1 Click Here
PART 2 Click Here
Thank you for stopping by today. Please take a look around. And, if you have ANY questions, we'd love to hear from you.
Email us at: info@ChixChatClub.com
Single gals: be sure to join the Chix Chat Club on Facebook.
Follow us in Twitter: www.Twitter.com
And, be sure to
Visit our Chix Chat Store!
Thanks for stopping by. We hope to see much more of you in the days ahead!
Stephanie
February 9th, 2010 by stephanie
Well, 'tis the season. This is the week that all good people are encouraged, no, let's face it, expected, to focus on the following:
-Cards
-Chocolate
-Flowers
-Hearts
-Sentiment
-Perhaps Dinner Out
-Perhaps a Gift
It all depends on who is in our lives as we approach this holiday of the heart.


MEN:
If there is a special lady in your life, may I suggest that you have something planned. Even if it's recession-friendly. So you can't do the 5-Star restaurant this year. Not to worry. A nice cozy, in-expensive place will do. Just make sure it's a good place where you can "chat". SHE will want to "talk" even if you feel you have nothing to say. Brush up on a bit of celebrity gossip. (Some gal at work can provide you a few talking points.) Maybe check out a few hit songs of late. And anything else your "girl" is interested in. See if you can't get a bit of scoop in advance. Or, default to what you did this week. Yes. What you did.
LADIES:
I know this may be a tough one, but for the good of the order: Don't expect too much. It just isn't necessary and it doesn't make love, well…love. Love is about who the two of you are when you're together. A good match. Hopefully. So, let him have his night and do as best he can and then have the grace to praise him for it.
CALLING ALL SINGLES!
Ok, this is where we don't cry over spilt milk. Statistics show that unfortunately, most couples this coming Sunday just might not have that great of a time. Some will squabble. Others' expectations will not be met and they may end up a bit dismayed. And, well, things happen.
Now, we all know some will have a fab time, and you know GOOD for them. Let's all be adults and cheer them on.
But for you dear savvy, single friend, this is your night to enjoy those in your life that truly are there for you when the chips are down. Speaking of chips, grab a few of your favorite bags and a couple of movies you've been wanting to see and call those extra special friends over for some good 'ol "friend" time.
Or, if you're like me, hitting that favorite hole-in-the-wall Mexican place with your favorite pals is a must-do.
Whatever the case this year, here are my highly overrated tips for you:
1. Make plans now. They don't have to be grand. Just make them.
2. Pick your absolute favorite person or pals plural.
3. Do something you really love to do and ask them, today, to join you.
Pretty simple. And with that, we should all have a very happy Valentine's Day.
PS: Guys, Valentines Day is this Sunday.
🙂
Just my thoughts.
S.
November 18th, 2009 by stephanie
Greetings one and all. A special message today for the single set. The holidays can be a bit tricky for the solo crowd during the Holidays. There's a chapter in my book dedicated to the hilarity and challenges that come with this festive time of year.
If you're single, or know someone who is, tune in, at 6:30 PM CST–Stephanie will once again join Monica Schmelter on BRIDGES the TV show. The
theme will be: Single for the Holidays. Tips, advice, some laughs and more.
Here's a link!
JUST CLICK ON WHTN! and enjoy!
…and we'd love for you to put this one in your calendar too!
Monday-Jan 4th 9:30 AM & 6:30 PM (Getting Ready for New Year)
Thank you so much to all of you out there and for your wonderful support. We hope you enjoy the SHOW!
SINGLE GALS: Don't forget to join us on FACEBOOK.
Friend us at: Stephanie's Book & ask for an invitation to the Chix Chat Club.
Follow us on TWITTER: click here!
If you haven't gotten a copy yet of my book, WHEN YOU GROW UP AND GET…SINGLE well, I'd love for you to order your copy today. And too, to share it with a friend.
Just click here!
.
Don't miss our Journey to Thanksgiving series in the Blog this month and next. We will pick back up with that later this weekend!
Best to you!
S.
November 12th, 2009 by stephanie
We want to take this time to welcome our BRIDGES viewers. We're so glad you are here!
For those of you not familiar with Bridges, it is a TV show on CTN hosted by Monica Schmelter. I so enjoy my time with Monica. It just flys by. It seems the camera goes on, and then…the lights go off.
Tune in today if you can. Friday -Nov 13th 9:30 AM or at 6:30 PM –Our theme will be: Women Like to Talk (The Chix Chat Club)
On channel WHTN/CTN
Last Friday (11/6), I was on Bridges with Monica and we talked about being Single in America. For those of that you missed it and would like to check it out we have placed two clips from that show online for you.
Here's a link!
If you like what you see, catch us next week!
NEXT Friday-Nov 20th 9:30 AM & 6:30 PM –our theme will be: Single for the Holidays
…and we'd love for you to put this one in your calendar too!
Monday-Jan 4th 9:30 AM & 6:30 PM (Getting Ready for New Year Show)
or if you miss us on TV just visit this link: http://www.ctntv.org/bridges.html
Thank you so much to all of you out there and for your wonderful support. We hope you enjoyed the SHOW!
SINGLE GALS: Don't forget to join us on FACEBOOK. Friend us at: www.facebook.com/stephaniesbook and request an invitation to The Chix Chat Club.
If you haven't gotten a copy yet of my book, WHEN YOU GROW UP AND GET…SINGLE well, I'd love for you to order your copy today. And too, to share it with a friend.
Just click on the BOOKSTORE tab above.
🙂
Thanks again for tuning in. Come back soon!
S.
November 9th, 2009 by stephanie
It's been an exciting time here at Chix Chat Central. We are pleased to launch our brand new, very own, Chix Chat product line. T-shirts, mouse pads, mugs, even apparel for that adorable pet! Don't miss the guys apparel too! Take a look around and create your own gift item – for somone special or to simply treat yourself!
You'll find seven different designs to choose from. Statement t-shirts, and so much more! Here's to some fun and a few laughs during this phase of your solo lifestyle.
Make a statement this holiday, or just have a good laugh or put a smile on your face. Whether for you or for someone you love, take a look at these great items we have put together speicifically for those navigating the solo waters of life. Just another reminder, it's always more fun to sail with a buddy. Take a look, make a selection and enjoy! Here's a private quick-link for our very special guests and Chix Chat Club members.
bit.ly/3uvgNc
or try this!
http://www.zazzle.com/chixchatclub/gifts
Order today and receive your package by Thanksgiving!
Chat soon!
S.
September 25th, 2009 by stephanie
Sometimes it's the simplest of things in life that can make life better. Or, you could say, it's the oddest or most mundane things that can surprise you and become the heroic.
She was heading out from a club. Her sister had been singing and she was there to support her and enjoy the evening. Pulling onto the freeway in her big Durango, she felt the precarious bump, bump, bump in the tires beneath that signals trouble.
Making her way over to the shoulder under the overpass, she realized, It's 11:00 pm. I am a pregnant woman. Alone on the freeway. Not good.
Her husband had graciously remained at home watching the baby so she could enjoy the evening. As the child was sound asleep, he would not be able to leave and come to her rescue. Fortunately, her father took the call and was there in a short time.
Frantically working away, he finally got her up and running. As he began to pull away, she turned the key. Nothing. She tried again. But the battery would not cooperate. Once again, her car would not be taking her to safety.
Long story short, those wonderful flashing blue lights, that can strike fear into the heart of a speeding driver, appeared in her rearview mirror. Those lights felt like the arrival of the Cavalry that night to our damsel in distress.
After a quick assessment, the officer sauntered back to his car and returned with a Coke. What! she fumed to herself. You're thirsty!? Casually, as if on cue, he twisted open the beverage and poured a bit into the cap. Odd, she thought. He then in turn poured the capful onto the corroded area of the battery.
"Start 'er up," he instructed. And with that, she did.
Finally, at 12:30 in the morning, she pulled away. Thanks to a bit of good ole "Co'cola", as they say here in the South.
Now, I will tell you, I am a true Coke fan. Iced cold, if you don't mind. But I had no idea that it could be a girl's hero. My grandmother always reminded me of a science experiment they did in school. "We put a penny in that bottle of coke, and then one day, it was gone!" She never did much care for Coke after that.
This may not be the best method of car repair, and it could go with a disclaimer, "Please do not try this at home." But, in a pinch, I'd say, keep that bottle of Coke in the back seat or the trunk. One just never knows.
A simple drink. Just a drop. Who knew? But I will say, it reminded me of a verse in the Bible. God, too, seems to enjoy using things we don't think of to make a big splash in life. Check it out:
"But God hath chosen the foolish things of the world to confound the wise; and God hath chosen the weak things of the world to confound the things which are mighty;" 1 Cor. 1 :27
Just my thoughts. And, well, His. Which are always much better. But, hey.
S.