March 12th, 2017 by stephanie
As Bosco and I made our way to the kitchen for our morning ritual, I flipped the switch on the coffee pot and reached for the dog bowl in order to prepare his breakfast.
When I opened the cabinet to extract my coffee cup and looked out the window, it started. There it came…snow…in March. Big, fluffy, lovely snowflakes fell to the ground and began covering my deck and yard. It was just as my neighbor had predicted the night before.
As I stepped outside to take it all in, the birds began chirping at me as if to say, "Hey, lady, you're going to need to feed us today. It's snowing, you know."
When you think of the South, the first thing that comes to mind is definitely not snow. It does, however, grace us, but not enough for the state to warrant purchasing, maintaining, and storing a fleet of equipment to manage the roads and more. With that, snow in the south is taken very seriously. At least, here in the Nashville area. One inch has been known to shut down certain areas of the city.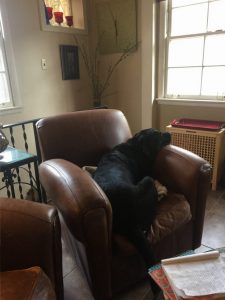 But snow in Spring is just not known to happen. So when it fell on the blooming tree outside my window, I decided to light the candles, grab my laptop, and settle in for a lovely, what we call here, "snow day." Bosco seemed to agree with the idea.
And then, as quickly as it came—it left. By 2pm it had melted and the dreamy, grayish morning had morphed into a sunny afternoon.
It reminded me that life events are like that. Some good. Some not so good. "Things happen," is a common saying these days. When they do, we can either shut down, get upset, or simply settle in and ride it out. The sun will eventually come out. It's just a matter of time.
I experienced that exact situation on my snowy morning. The day I had planned was hijacked by a "moment." I fretted and strained, only to realize later that afternoon it was working towards resolution due to the graciousness of a third party. Just like the snow that was melting on my deck, the problem at hand was slowly disappearing as well.
I wish I didn't let "life" get to me like it does. I am old enough now that I should know better. However, human as I am, I find myself still working on the "basics."
If you are stressing over something today, I hope this passage will encourage you.
By the way, I didn't feed the birds. They're out there now in full force, and they seem to be doing just fine.
Selah.
—Just my thoughts.
S.
Want to receive these to your inbox? Just click here.
And thanks!
February 26th, 2017 by stephanie
Heading over to the gun range, I was a bit excited, and apprehensive, at the same time. Having not practiced for what seems to be about a year, I knew my familiarity with my Bersa 380 and my skills were both quite rusty. But my basket was packed and was holding my pink eyewear, my gun case, and my rolled up targets. I at least looked like I belonged. I think. Somewhat. I imagine the pros could spot me a mile away and were thinking to themselves, warning: rookie on deck. 
It was a new location to me. However, when I saw the lounge, the free coffee, the cold beverages and the big leather chairs, I knew I'd come to the right place. I headed to the counter to reserve my range, settled in for the safety video, signed the online waiver, and then waited.
Once all of the above were completed, I realized the clock was ticking and I'd better head over to select my ammo. After a nice chat with the man at the counter, I headed back to the lounge. And waited some more. I took that opportunity to watch some YouTube videos on my particular gun piece, some loading tips, and then realized…I have been here an hour and a half. What's up?
With that, I headed back to the reservation area. "You can remove my name from the waiting list," I stated. The not-so-eager or helpful assistant asked my name a couple of times and seemed to be annoyed. It was then he realized in his system how long I'd been there. "Oh," he suddenly offered, "I can get you in now."
Really? Why now? I mused.
"No thanks. I need to go," I replied rather flatly.
With that I turned to head to the ammo area to return my would be purchase. That's when he stopped me and said, "Wait!" He was scrambling for something and was offering it to me. "Here's a free range hour on us."
I paused, then received the small card. "Ok, thanks." I then left. I was not a happy camper.
That's when it hit me.
Why are you upset? Sure, you waited. But you just got a free trip to the range! That's cool You may have spent your time today in a way you hadn't planned, but you got quite a bit accomplished during your visit. (The ability to work remotely on our phones these days can be a blessing for moments such as these.)
The steam began to cool and my shoulders lowered as I drove away talking myself into a namaste calm.
That's when the point was driven home.
Why do we get upset when delays or disruptions happen? It doesn't solve the problem at hand. And, too, showing our emotions can, and often does, ruin the moment. Or the relationship.
I was reminded of a story where a couple that were moving a mattress were in the elevator heading down to the street when it stopped. They were delayed over an hour waiting for help to come. When they finally got outside, they looked up only to see a 3-year old playing on a balcony above them. They tried to talk the toddler inside, but the autistic child could not understand their words. He came tumbling down—right after they'd hurriedly moved the mattress under his playing area, only to catch him—just in time.
Now, if they'd fumed, and demanded their way, or been ugly, imagine how silly they would have felt only to realize, that exact delay was what turned into an opportunity to save a child's life.
Coincidence? I think not.
The point?
Maybe delays and disruptions aren't something to look at as negative or so awful. Maybe we need to just ride them out and look forward to something good to happen on the other side.
For me, staying calm, at least on the outside that day, landed me a free trip back to the range. If I'd thrown a fit, that may not have happened. And truth be told, I needed time to check out the new facility, learn the ropes there, and get reacquainted with my neglected firearm anyway.
For that couple who were moving, they unexpectedly kept a family from tragedy.
I hope this thought will carry into this week with you. If you have a divine delay or disruption, I'd love to hear about it.
Email it to: info@stephaniehuffman.org
—Just my thoughts.
S.
Want to receive these to your inbox? Just click here.
And thanks!
February 12th, 2017 by stephanie
While sitting at a business lunch, across from a gentleman who works at a university in the alumni donations space, the conversation turned to recent events in our country. Unless you have been living under a rock, there's been a lot of unrest, to say the least.
That is when this particular college representative made a flippant comment. He seemed to feel very proud of his point, stating in regards to the current issue at hand,  "What would Jesus do…?"  This statement was to be an indictment on laws being debated on topics that pertain to immigration, free speech and more. He seemed a bit inspired that students at his very conservative university were even wanting to be involved in the protesting. (I wondered how his donor base might feel about that.)
What struck me at that point was a number of things.
However, to answer his question, if only in my mind and not aloud at the table, I instantly thought of the Scriptures that share of the story of Jesus being approached on the issue of taxes. Basically, Jesus told them to abide by the laws of the land. Obey the authorities at hand. (Ironically, when it came to religious laws, he and his disciples were known to break those left and right!)
It was at that point, I realized this individual, who is a representative of higher learning, was not only unaware of the laws of our land that are currently on the books (and not being followed), he was showing our table he truly didn't know the depths of the Bible. His institution being that of Christian by name, left me very much wondering.
But back to "What would Jesus do?" The passage I referred to earlier may be familiar to you,"Render unto Caesar what is Caesar's, and to God what is God's." Basically, "If it's the law—obey it."
The New Testament calls on believers to support their governments, even when harsh or when they don't agree. It NEVER encourages Christians to rebel, to destroy, or to tear down what is in place.
As my mind wandered, and as the speaker for the luncheon droned on, I kept wishing I could have discussion with this tablemate. But alas, sadly, in today's climate, no one knows how to debate. They just scream, pound the table, demand their way or get angry if you don't agree with them. My colleague sitting next to me pointed that out when we looked at each other after the lunch and had the same thought. How we wished for sober conversation for both sides. But, alas, that won't happen. At least not in today's climate.
I then mused about people who have security detail, or who live in gated or walled areas. I was surprised to think of how many of them are against a "wall" and are pro gun-control as well. Being that they themselves are personally secure at all times (or so they assume), the power of the issue for those who are left feeling not-as-secure—alludes them.
But let's get back to ideal vs. real.
Idealism: My dog thinks the world is a great safe place. He doesn't like it when I tell him what to do or thwart him in regards to his will or wishes. I keep a short leash on him, as they say. What he doesn't understand is that dangers, and evil people, do, in fact, exist. Visit any prison, or hospital or vet where abuse has been clearly dealt upon a victim.
Realism: We have laws in order to be able to live in peace with each other and to live protected. Order is a good thing. Look at any third-world country, and I hope you can see that. If it is OK for me to hit you, break into your home, crash your car or steal from you, then you can't live in peace. We can't have lives of liberty and happiness with no rule of law, or order. That would be a life of fear and anxiety.
Fact: We do live in a wonderful country. It's amazing, and if you have traveled at all, you know exactly what I mean.
But, reality is this: simply trying to believe that evil doesn't exist if we don't want it to, and that by thinking good thoughts, and believing people are good, will cause that wish to be so?  That isn't realistic. It isn't truth. It's just an idea. A thought.
That being said, we all know thoughts are indeed powerful. It's important to think "good" thoughts and to avoid the negative and toxic.  Climbing into a hole, however, isn't the answer. Closing the door while the fire is burning in the front yard, is not going to solve the problem.
So, what's a person to do?
Why….start with obeying The Golden Rule, of course!  Do unto others as you would have them do to unto you.
You can read it here: "Do to others whatever you would like them to do to you. This is the essence of all that is taught in the law and the prophets."
And too—Follow the rules…It's best for all of us.
I end with some words that have always been encouraging to me. I hope you find them comforting as well.
Let us not grow weary in well-doing, for in due time we will reap a harvest, if we do not give up.
—Just my thoughts…
S.
Want to receive these to your inbox? Just click here.
And thanks!
December 4th, 2014 by stephanie
Just obey me.
I joke that my new puppy thinks his name is "Bosco, 'No'." For the first five weeks in my house, that's about the only words he heard.  Those, and of course the other ones that I utter each time he defiantly disobeys me. I lean over him, look into those adorable eyes, and while trying to get my message across (without laughing) blurt out,  "I could squish you like a bug!" Doesn't he know I could wipe him off the face of this planet in one swoop?
Why not just obey me and avoid any repercussions let alone the consequences? At times, I get so frustrated. If I could only speak doggie and get through to him…But alas, I can't.
We're turning a corner of late. I'm finally able to have some cuddle time where he doesn't bite and gnaw on me 24/7. I'm actually experiencing moments of peace (when I'm not chasing him down the hall with yet another shoe). In those new quiet minutes, I have begun to think, I sure hope God looks at me that way—when I am being nothing short of a brat. I hope He says, "But she's so dadgum sweet and cute."
I wonder if He's able to adore me when I continue to miss the point, or when I snap back at Him each time I don't get my way? Does He still look at me lovingly when I do the same things, over and over again? Does He get exasperated having to repeatedly remind me, "Stop it. Don't do that!"
Though He could truly "squish me like a bug" (and in one breath blow me into eternity)…I hope in those moments He looks at me the way I look at my new puppy.
When I look at Bosco, I see a sweet, innocent creature, that just doesn't quite yet get it. He tries—he really does. I can see it in his eyes. He simply can't help himself. He wants to be good, but that intense puppy instinct overrides my rules and reprimands that ask him to go against his nature and adjust. And alas, he does the exact opposite of what I ask or want.
Being good isn't easy. Obeying when we just don't understand why we should (or when it doesn't make sense to us) is tough. But like Bosco, we don't speak God's language. And too, we really don't know much about this immense and complex world out there that we live in—and we never fully will. That's why God asks us to not question—just simply obey.
I'm grateful to know The Lord understands that I just don't get it. But I try…I really do. Maybe someday I will grow up, and behave, and just rest peacefully on the porch of life and not fight for my own way all the time. Wishful thinking. Who knows. We'll see.
Just my thoughts,
S.
We'll send my latest blog to your inbox. Just sign up here!
And I'd love for you to join me on Facebook and Twitter.
Deuteronomy 30:15-16New Living Translation (NLT)
15 "Now listen! Today I am giving you a choice between life and death, between prosperity and disaster. 16 For I command you this day to love the Lord your God and to keep his commands, decrees, and regulations by walking in his ways. If you do this, you will live and multiply, and the Lord your God will bless you and the land you are about to enter and occupy.