September 25th, 2017 by stephanie
I have had the privilege recently to become friends with some precious families. Mostly the gals, and, of course—the adorable kiddos. The husbands' day job? Well, you know how it goes…"I'd tell ya', but I'd have to kill ya,'" kinda thing. Sounds dramatic, but as I get to know these women, it's dead serious. You keep your mouth shut about those things.
It's been an honor to be a part of their semi-inner sanctum. For them to invite a "civi" (civilian) like me to even "come to the table," if you will, means more to me than they can know. You have to understand, I can't even get through the song when Lee Greenwood sings I'm Proud to Be An American and I cry at the Star Spangled Banner as well.
Ironically, the first Titans game that I had the pleasure of attending this year featured the very group of this band of brothers as the team that rolled out the huge American flag on the field during the National Anthem portion of the game. (A tradition in our country that is quite in the news and under fire of late due to NFL players "taking a knee" during that special tribute time.)
But back to the women. These gals say goodbye to their husbands, and many times have no clue where he will land. Today, they can text and communicate while they are at opposite ends of the world, but still, when you are left for months with small children, a house to maintain, the bills, two pit bulls, a ferret, and a snake (all named after famous Americans by the way—you can't make this stuff up—so SF!) …it's just as tough a job as that of the boys who are managing somewhere in an undisclosed location.
One of my sweet friends, whose husband is stateside long enough to leave her with child each time before he deploys, recently miscarried. He was not able to be there with her through this part of life's journey. Life goes on. Tough.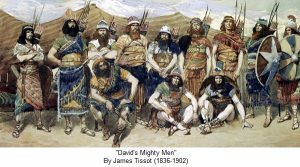 These guys and their "occupation" aren't actually new. The equipment and technology may be, but the elite warriors have been around for centuries. Many folks may not know that the Bible actually records one amazingly spectacular special forces team of its own. In case you missed it, David's mighty men (known simply as The 30) were more than 007 for their time, and they were notorious enough to make the Holy Scriptures. And, as we all well know—that is some pretty prime real estate.
So, I leave you today with a few thoughts:
You will certainly want to check out the amazing story of these valiant warriors.  Find it here in two different books: Here and Here.
Their women didn't get mentioned. Well, except for the fact that one of the men was Uriah. Yes. THAT Uriah. And, well, we all know what happened to him and to his wife. (I can assure you, these ladies and their men that I know are fiercely loyal and have what I think are fantastic marriages. At least, the ones I have met.)
Say a prayer today for those men, and their families, if you will. They would never ask for you to do so, but I can assure you, they would privately be more than grateful. As you can imagine.
Just my thoughts on this early fall day.
Best!
Stephanie
Want to receive these to your inbox? Just click here.
And thanks!
May 28th, 2017 by stephanie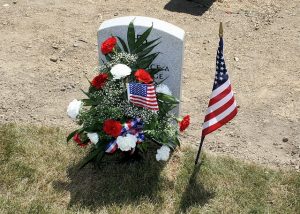 Did you know that Memorial Day used to be called Decoration Day?
My grandmother and my mother were the ones who taught me that piece of information when I was a little girl. But there's a reason for that.
Memorial Day used to be a special time set aside for Americans to visit the cemeteries. While there, they would decorate the graves of those who had given their lives in service to this country.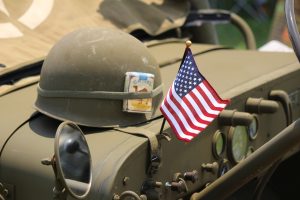 The national holiday or remembrance also used to be celebrated only on May 30, and, as that is my date of birth, each year my grandmother or mother would remind me of the holiday and it's meaning. Which of course I loved. They would always say,
"You were born on Traditional Memorial Day."
In time, it was decided that Memorial Day would officially become the last Monday in May so that federal employees could have a nice 3-day holiday.
For you trivia buffs, here's more.
I hope this weekend finds you remembering, grateful and feeling very proud of those who have served and those who currently serve this great land of ours. #GodBlessAmerica
and…PS: Did you know the President (POTUS) has called us to prayer locally at 11am today? Will you join me?
—Stephanie
Want to receive these to your inbox? Just click here.
And thanks!
May 21st, 2017 by stephanie
Imagine being informed that you are the one chosen to walk a very long red carpet, fully flanked by sword-bearing soldiers of another nation, while protecting the First Couple. It's a long walk, and if anything happens to the president and the first lady, both of whom you are now solely responsible for, well, it's just you to handle the situation. Hopefully, your inner Jason Bourne or 007 kicks in at that moment.
Now imagine the thoughts going through your mind, step by step…keenly aware…anything can happen. And for heaven's sake, don't stumble, trip or step on the robe of the guy in front of you. You basically hold your breath until you reach the carpet's edge where friendly forces and personnel are waiting to join you.
Now, I realize that sounds a bit dramatic, but that's exactly what happened for one lone marine in full dress uniform on May 20, 2017. Ironically, it was Armed Forces Day. That Marine will go down in history as the lone military personnel selected to walk the tarmac and whose charge was the first couple. An unknown man, forever entrenched in the optics and the imagery, he unwittingly found himself the poster child for this day to be sure.
His children, family, unit and more will brag on him, and that they knew him, for generations to come to be sure.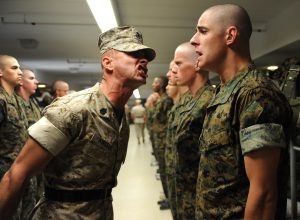 When you stop to think about it, what gets a person to this kind of appointment—or moment? How is the one who is chosen for that incredible, terrifying honor? How do you get there?
As much as we'd like to think he grew up with that moment in time as a goal, that would be highly inaccurate. No one could have predicted this trip or that scene. You just can't write that stuff. It's about timing, training, and trust. What do I mean?
Timing: you can't predict being in the right place at the right time. Those things just aren't in your control.
Training: the marine in that iconic photo is living the dream to be sure, but if you could sit down with him and hear his story, you'd probably hear about daily runs and grueling workout, hours and hours of weapons handling and skill work, battle study, and so much more. He would tell you of times where he almost broke, or quit—but didn't. He made it one more step. That step that would take him closer to his historic appointed time.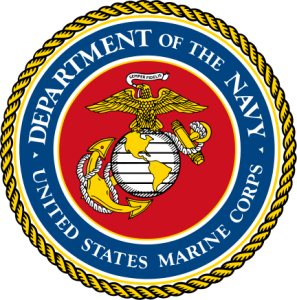 Trust: his men, his colleagues, his leadership all must have trusted this man implicitly. He was the shoe-in for this spot. The perfect man for the job, or the man who had worked his way into this position, and when the protocol fell to him, he was ready. Very fitting, as Semper Fi, the Marine Corp Motto, means "always faithful."
It's a fitting tribute this weekend, as we pause to remember and thank those who have served and those who currently serve.
As you go through the coming week when the moments come that seek to stall you, frustrate you or beg you to quit. Don't. You just never know, perhaps this is when the stars will align, and all of your efforts will fall into place and come to fruition.
Just my thoughts
—S.
Want to receive these to your inbox? Just click here.
And thanks!
#marinecorp #unitedstatesmarines  #nomanleftbehind #SemperFi
February 16th, 2015 by stephanie
Presidents Day:
A day off from work…for some. Sales for others…a day to remember our Commanders-in-Chief.
Our nation's citizens used to celebrate Abraham Lincoln's Birthday and George Washington's separately and on different days. Not combined into one, as we do today.
Lincoln's birthday was February 12th and
Washington's actual date of birth is the 22nd.
Interestingly, in the 1950's there was an actual Presidents Day Committee (that came out of California) whose goal was to turn the day into a celebration of merely the office of the Presidency.
We went from celebrating President Lincoln's Day and President Washington's Day to simply that of, President's Day. Then we went to Presidents  (plural-in general) day. Clear as mud?
Anyway…wherever today finds you, perhaps this bit of wisdom from Washington will give you some advice for your week, or Presidents' Month perhaps.
It reminds me of an ancient Proverb as well
Those who guard their lips preserve their lives, but those who speak rashly will come to ruin. – Proverbs 13:3
Just my thoughts on this icy, Presidents Day in the South.
– S.
We'll be talking about Mardi Gras, Ash Wednesday and Lent in the coming weeks…so don't miss it. We'll send the latest to your inbox if you like..Just sign up here!
….I'd love for you to join me on Facebook and Twitter.
June 11th, 2014 by stephanie
Did you know?  June 14th is FLAG DAY.
Whether your home, or office, vehicle or place of business, be sure to sport your Patriotism this weekend.
If you don't have a flag, try the Dollar Store at the least. But don't delay. Now is the time to locate that flag and fly it. Maybe you have one that you hang out in front of your home, or, perhaps you prefer one in your window. Even one of those table top stands that lets you set a mini flag on your kitchen or dining room table or your desk at work. Anything will do.
Where did this special day come from?
President Woodrow Wilson (in 1916) issued a proclamation that officially established June 14 as Flag Day. But it wasn't until August 1949 (a few years after WWII) that National Flag Day was established by an Act of Congress.
Flag Day is not actually an official federal holiday. Pennsylvania, however, made it a state holiday. (Good for them! ) Flag Day used to include parades and festivities.  The real question is, how will you celebrate it this year? My dining room table will be decorated, the door will have something too, and I think I'll stick some flags in the grass again, just for old times sake.
Just my thoughts.
S.
Do you receive Stephanie's blog? If not, subscribe today. Click here!