April 11th, 2020 by stephanie
"What's the point?"
I was just wrapping up my last Zoom virtual session of the day when the text came through. I hadn't really looked at it until I hit the End Meeting button. When I did, it read: "I am leaving something on your front porch."
In this time of self isolation, obviously, interaction with a real person is golden. I raced to the door…had I missed her? Was I too late?
Fortunately, she was just unloading. Whew! That's when she came around from the back of the car with a most gorgeous flowering plant. And it was for me! How thoughtful!
As we both made our way to the front porch positioning ourselves the mandatory six feet away per CDC guidelines, we enjoyed the gorgeous afternoon sun while we caught up–in person!  A delicious treat these pandemic ridden days.
We chatted of course about the current situation that we as world have found ourselves in and then segued into how it has been affecting us. For her, it had been a spiritual transformation of late. She realized that the things she had been focusing on, just a month prior, were now seen as nothing but shallow and frivolous when viewing them in the light of our new way of life. It was a true revelation to her, and one she was proud to share. She'd seen the light so to speak.
That's then I made the statement, "We as a world have been on a hamster wheel to nowhere. And it stopped."
She couldn't agree more responding that was exactly how she has felt. "I was on that wheel…and for what?" Going back wasn't an option. She'd changed.
Basically, we as a world had been spending our time, energy and resources running to get bigger and better personally, professionally, and financially…but for what?
Though these days have truly been horrific for some, others meanwhile are rediscovering their family, their friends, their neighbors, and yes, even their pets!
As difficult as this historic season has been, deep down, I quietly believe we will miss a bit of this forced lifestyle of seclusion when it's gone. Not the death or the fear, or the empty store shelves, nor the masks and the gloves, but the unification of a planet with one common goal. Defeating an unseen enemy. All on the same page. If anything, for one short period of time. Something my generation, and those behind me, have not truly experienced (Thought some might argue 9/11 might fit the bill.) The new memories we're building of re-learning how to shop, cook, and even clean are noteworthy! Time spent together taking walks, sitting around the table or just getting to know each other in new ways, for some, will be priceless.
We will talk about these days until we die. And those of us who live to tell will all nod our heads and roll our eyes together when the subject comes up. Just think about it, this has provided us all at least one thing we have in common, one topic we can talk about together and remember. Something that brings us…together. And I can't think of anything more powerful, or positive right now, than that.
Just my thoughts.
— Stephanie
If you'd like to receive the latest blog to your inbox, simply click here!
For questions or comments: email us at info@stephaniehuffman.org
Single? Know someone who is? Don't let them go another day without a copy of Stephanie's book When You Grow Up & Get Single. It's available in paperback, kindle and iBooks!
April 2nd, 2017 by stephanie
I'd never heard of the university. It had an odd name, and I thought the request for my client to speak there was something that would fade away. An interesting gentleman who kept calling and emailing our offices, however, had other plans. He persisted, worked his contacts, and in time, the date was scheduled and our flights were booked.
That week, Gonzaga University would make the cut for the playoffs in the Final Four. As I packed my luggage for our trip the next morning, I was able to watch the very game that the Zags would not only win, but that would send them to Phoenix. It was exciting.
This was all happening during March Madness. And it was historic. Since opening their doors in 1887, Gonzaga U had never had a national championship. It was a miraculous time for them, to say the least.
Once on their campus, I enjoyed absorbing the environment that had produced this stellar team and student body."Why would I have the privilege of being a part of this amazing week for them?"  And too…"What is God doing or thinking when moments like these, so serendipitous, occur?" I knew I would jot down my thoughts as soon as my schedule calmed down.
Upon returning home, I was able to watch them win again. This game now sending them into the Final Two. As we had received some lovely "swag" from the university upon our arrival, I could now cheer them on in style.
Earlier that morning, the lawn service had come to the house. I had randomly googled, then called, a company the day I returned home from my trip. They said they could come on Saturday as they would actually be in my area. Imagine my surprise when after finishing my yard, they also mowed the house two doors down to my right, and then another house two doors down to my left before heading off to their next rounds. Ironic? Serendipity again? I think not.
I am truly amazed at those moments where God intervenes quietly, and I have no idea how or why. But I just know that He did "it" or handled something for me. Not because I was a good girl that week, but simply because He chose to show His power—and I may never know the answer as to the "why?"
One thing I do know, it's an opportunity to be reminded of how big He is, how indiscernible He is, and to simply offer gratitude and thanks.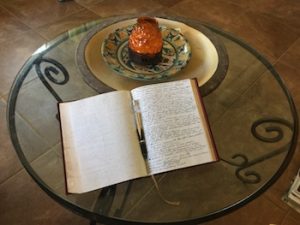 If you experience a "God" moment this week similar to what I have described above, why not write it down? Make note of it. And if you can, continue to make note of those moments in the coming days. I have a lovely journal that I simply jot a line in when those moments occur.  I try to write down at least one or two each morning. I list those things that I know only God could have orchestrated. And to simply give thanks. It's a wonderful way to start the day. Just so you know, I call it my Book of Gratitude. I hope you will consider starting one of your own. Even if it's a google doc on your cell phone. 🙂
Just my thoughts.
S.
Want to receive these to your inbox? Just click here.
And thanks!
March 19th, 2017 by stephanie
We were simply working through the preparation stage of the editorial process with an author when we learned some very unexpected news. Apparently one of the catalysts for the book we were reviewing came from a disturbing situation. The author had learned that for 8 of the 10 years they had been married, their spouse had been cheating on them.
Other than expressing the usual, "Oh, I am so sorry…" we just didn't know what to say.
It's just not right. It's a statement that you and I probably say out loud at least once a week. But I have to admit, I say it more these days then I did when I was young. It seems the world has gone plumb crazy.
That same week as a friend and I squeezed into a tiny table at a small Italian eatery, she poured out her heart. I was saddened to hear her latest business connection, whom she had known for only a week, had offered to take her to Paris as recompense for not returning her call in due time. He was so sorry, and this was his attempt to make things right. Bizarre. Presumptive. No words.
With that, I had to remind myself that this would-be-new-phenomenom of "odd behavior" is simply just not that—new! Things haven't been "right" for quite some time.
Take this story for instance: imagine being anointed king of a country, while the current one is sitting on his throne just a few miles away. That's what happened to David centuries ago. Just a shepherd boy at the time. You know he had to wonder…
Then, to turn around and learn that after he had lived in the palace, at the king's invitation, had been good to the king's son, and had served both well, the king wanted him dead—and made orders to that effect.
It just wasn't right.
First of all, the sitting king must have said when he found out, "Why would God do that to me? It's just not right. I am the King!"
The young boy would say, "Why does the king want to kill me when I have been nothing but kind and obedient? And let's be clear, I didn't ask for this. It's just not fair."
But the truth is…everyday life is like that. And for some reason, when things go wrong, we act as if we have been stunned by the event. We feel as if things should just, well, be "fair" in life. That things should be "right." People should behave. And you know, they can and they should. Sadly, they don't.
Human nature and life events tend to collide. We can't explain it, and we can't control it. We simply have to buckle up and ride it out.
It reminds me of a time, years ago. I was driving around town with my grandmother who had come for a visit. It was very dark at one particular place where we were. The lighting was very poor. When I turned out of the parking lot into what I thought was the lane, we learned suddenly it was a huge ditch. My amazing  grandmother reached over, grabbed onto me, and commanded, "Ride it out, honey! Just ride it out." We did. We survived. And, thankfully, so did the car! To this day, I don't know how we got out of that ditch in the pitch black. That was truly a ride of a lifetime, and one I hope to never repeat.
You can't control life. Even if you want to. And we certainly can't understand what God sees or what he is doing when we are in the dark and life hits us squarely in the face.
God reminds us in His Word:
Isaiah 55:8-9

New Living Translation (NLT)
 "My thoughts are nothing like your thoughts," says the
Lord

.
"And my ways are far beyond anything you could imagine.
For just as the heavens are higher than the earth, 
so my ways are higher than your ways
and my thoughts higher than your thoughts."
Now let me be clear. I am not saying in the least that we sit down and let wrong persist. We should fight for what is right. When it is, however, in our power to do so. You may be familiar with the phrase, "Evil persists when good men do nothing."
What I am talking about here, is, when things that you can not control happen, and just do not seem fair, when you wonder if justice will ever be served…fighting and fretting those moments…is not the answer. I would suggest prayer is the best prescription at that point. Ask for wisdom. Ask for protection. Ask for direction. And hold on for the ride.
I promise, you'll come out on the other side. You are going to be OK. This too shall pass…just.hold.on.
—Just my thoughts,
S.
Want to receive these to your inbox? Just click here.
And thanks!
March 12th, 2017 by stephanie
As Bosco and I made our way to the kitchen for our morning ritual, I flipped the switch on the coffee pot and reached for the dog bowl in order to prepare his breakfast.
When I opened the cabinet to extract my coffee cup and looked out the window, it started. There it came…snow…in March. Big, fluffy, lovely snowflakes fell to the ground and began covering my deck and yard. It was just as my neighbor had predicted the night before.
As I stepped outside to take it all in, the birds began chirping at me as if to say, "Hey, lady, you're going to need to feed us today. It's snowing, you know."
When you think of the South, the first thing that comes to mind is definitely not snow. It does, however, grace us, but not enough for the state to warrant purchasing, maintaining, and storing a fleet of equipment to manage the roads and more. With that, snow in the south is taken very seriously. At least, here in the Nashville area. One inch has been known to shut down certain areas of the city.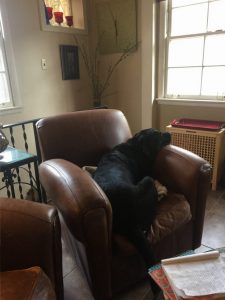 But snow in Spring is just not known to happen. So when it fell on the blooming tree outside my window, I decided to light the candles, grab my laptop, and settle in for a lovely, what we call here, "snow day." Bosco seemed to agree with the idea.
And then, as quickly as it came—it left. By 2pm it had melted and the dreamy, grayish morning had morphed into a sunny afternoon.
It reminded me that life events are like that. Some good. Some not so good. "Things happen," is a common saying these days. When they do, we can either shut down, get upset, or simply settle in and ride it out. The sun will eventually come out. It's just a matter of time.
I experienced that exact situation on my snowy morning. The day I had planned was hijacked by a "moment." I fretted and strained, only to realize later that afternoon it was working towards resolution due to the graciousness of a third party. Just like the snow that was melting on my deck, the problem at hand was slowly disappearing as well.
I wish I didn't let "life" get to me like it does. I am old enough now that I should know better. However, human as I am, I find myself still working on the "basics."
If you are stressing over something today, I hope this passage will encourage you.
By the way, I didn't feed the birds. They're out there now in full force, and they seem to be doing just fine.
Selah.
—Just my thoughts.
S.
Want to receive these to your inbox? Just click here.
And thanks!
February 26th, 2017 by stephanie
Heading over to the gun range, I was a bit excited, and apprehensive, at the same time. Having not practiced for what seems to be about a year, I knew my familiarity with my Bersa 380 and my skills were both quite rusty. But my basket was packed and was holding my pink eyewear, my gun case, and my rolled up targets. I at least looked like I belonged. I think. Somewhat. I imagine the pros could spot me a mile away and were thinking to themselves, warning: rookie on deck. 
It was a new location to me. However, when I saw the lounge, the free coffee, the cold beverages and the big leather chairs, I knew I'd come to the right place. I headed to the counter to reserve my range, settled in for the safety video, signed the online waiver, and then waited.
Once all of the above were completed, I realized the clock was ticking and I'd better head over to select my ammo. After a nice chat with the man at the counter, I headed back to the lounge. And waited some more. I took that opportunity to watch some YouTube videos on my particular gun piece, some loading tips, and then realized…I have been here an hour and a half. What's up?
With that, I headed back to the reservation area. "You can remove my name from the waiting list," I stated. The not-so-eager or helpful assistant asked my name a couple of times and seemed to be annoyed. It was then he realized in his system how long I'd been there. "Oh," he suddenly offered, "I can get you in now."
Really? Why now? I mused.
"No thanks. I need to go," I replied rather flatly.
With that I turned to head to the ammo area to return my would be purchase. That's when he stopped me and said, "Wait!" He was scrambling for something and was offering it to me. "Here's a free range hour on us."
I paused, then received the small card. "Ok, thanks." I then left. I was not a happy camper.
That's when it hit me.
Why are you upset? Sure, you waited. But you just got a free trip to the range! That's cool You may have spent your time today in a way you hadn't planned, but you got quite a bit accomplished during your visit. (The ability to work remotely on our phones these days can be a blessing for moments such as these.)
The steam began to cool and my shoulders lowered as I drove away talking myself into a namaste calm.
That's when the point was driven home.
Why do we get upset when delays or disruptions happen? It doesn't solve the problem at hand. And, too, showing our emotions can, and often does, ruin the moment. Or the relationship.
I was reminded of a story where a couple that were moving a mattress were in the elevator heading down to the street when it stopped. They were delayed over an hour waiting for help to come. When they finally got outside, they looked up only to see a 3-year old playing on a balcony above them. They tried to talk the toddler inside, but the autistic child could not understand their words. He came tumbling down—right after they'd hurriedly moved the mattress under his playing area, only to catch him—just in time.
Now, if they'd fumed, and demanded their way, or been ugly, imagine how silly they would have felt only to realize, that exact delay was what turned into an opportunity to save a child's life.
Coincidence? I think not.
The point?
Maybe delays and disruptions aren't something to look at as negative or so awful. Maybe we need to just ride them out and look forward to something good to happen on the other side.
For me, staying calm, at least on the outside that day, landed me a free trip back to the range. If I'd thrown a fit, that may not have happened. And truth be told, I needed time to check out the new facility, learn the ropes there, and get reacquainted with my neglected firearm anyway.
For that couple who were moving, they unexpectedly kept a family from tragedy.
I hope this thought will carry into this week with you. If you have a divine delay or disruption, I'd love to hear about it.
Email it to: info@stephaniehuffman.org
—Just my thoughts.
S.
Want to receive these to your inbox? Just click here.
And thanks!
February 19th, 2017 by stephanie
As I sat down across from my accountant this month, he greeted me with the usual, "Well, how did we do this year?" I slid the report across the desk facing him and he quietly and methodically reviewed it.
After punching my numbers into his system, he turned and asked, "How much did you say you put away for your April 15 taxes?" When I gave him the amount again, he looked back at his screen, then back to me, and stated, "That's about exactly what you owe this year."
I just smiled.
It's tax season here in the good ole U S of A. At least, for many of us. (Some do their reporting later in the year.)
But for those of us who know the April 15 date all too well, it looms once January hits.
Over the past 12 months, I was thrilled that for the first time in my business I was at a point where I could actually pay all of my estimated taxes.  Beyond that, during that same period, I was even able to set aside twice that amount in preparation for what I imagined I might owe.
The company had a good year. And, per our current tax structure, as happy as I was, I knew the day was coming that I would "pay" for that success. Sadly, the better you do, the more you owe. But I am not complaining. I was actually excited.
When I shared my accountant story with the #2 at my company, she paused and said, "That's just creepy!"
I laughed. Then mused…No, it's just God.
It reminded me of the story of Jesus, the disciples, a fish and a coin. If you aren't familiar with it, you need to check it out.
Basically, it goes something like this: the religious Temple tax collectors came calling. Yes, you read that right…the men of the faith were asking if Jesus and his followers were going to comply with what they owed the place of worship. Now, Jesus did not agree with this practice. It was not a civil tax, nor was it even a tithe, but rather, a religious tax on the Jewish members. Sheesh! And I feel over taxed?
Here is how The Lord handled the matter—and directed his team: "…we don't want to offend them, so go down to the lake and throw in a line. Open the mouth of the first fish you catch, and you will find a large silver coin. Take it and pay the tax for both of us."
And so it was.
The point? A miracle transpired that met their current financial needs. It just happened. It happened for me this month, and many months and years prior in my life, if truth be told. And, it can happen for you.
If you are feeling the financial pinch lately, and a bit concerned, I hope this passage, and my personal story as well, will be an encouragement to you.
Others might see it as a bit, well, "fishy", but when the money comes through, you and I will both smile, and nod. We'll know what really went down.
Just my thoughts.
—S.
Similar story for those wanting more: click here.
Want to receive these to your inbox? Just click here.
And thanks!
February 12th, 2017 by stephanie
While sitting at a business lunch, across from a gentleman who works at a university in the alumni donations space, the conversation turned to recent events in our country. Unless you have been living under a rock, there's been a lot of unrest, to say the least.
That is when this particular college representative made a flippant comment. He seemed to feel very proud of his point, stating in regards to the current issue at hand,  "What would Jesus do…?"  This statement was to be an indictment on laws being debated on topics that pertain to immigration, free speech and more. He seemed a bit inspired that students at his very conservative university were even wanting to be involved in the protesting. (I wondered how his donor base might feel about that.)
What struck me at that point was a number of things.
However, to answer his question, if only in my mind and not aloud at the table, I instantly thought of the Scriptures that share of the story of Jesus being approached on the issue of taxes. Basically, Jesus told them to abide by the laws of the land. Obey the authorities at hand. (Ironically, when it came to religious laws, he and his disciples were known to break those left and right!)
It was at that point, I realized this individual, who is a representative of higher learning, was not only unaware of the laws of our land that are currently on the books (and not being followed), he was showing our table he truly didn't know the depths of the Bible. His institution being that of Christian by name, left me very much wondering.
But back to "What would Jesus do?" The passage I referred to earlier may be familiar to you,"Render unto Caesar what is Caesar's, and to God what is God's." Basically, "If it's the law—obey it."
The New Testament calls on believers to support their governments, even when harsh or when they don't agree. It NEVER encourages Christians to rebel, to destroy, or to tear down what is in place.
As my mind wandered, and as the speaker for the luncheon droned on, I kept wishing I could have discussion with this tablemate. But alas, sadly, in today's climate, no one knows how to debate. They just scream, pound the table, demand their way or get angry if you don't agree with them. My colleague sitting next to me pointed that out when we looked at each other after the lunch and had the same thought. How we wished for sober conversation for both sides. But, alas, that won't happen. At least not in today's climate.
I then mused about people who have security detail, or who live in gated or walled areas. I was surprised to think of how many of them are against a "wall" and are pro gun-control as well. Being that they themselves are personally secure at all times (or so they assume), the power of the issue for those who are left feeling not-as-secure—alludes them.
But let's get back to ideal vs. real.
Idealism: My dog thinks the world is a great safe place. He doesn't like it when I tell him what to do or thwart him in regards to his will or wishes. I keep a short leash on him, as they say. What he doesn't understand is that dangers, and evil people, do, in fact, exist. Visit any prison, or hospital or vet where abuse has been clearly dealt upon a victim.
Realism: We have laws in order to be able to live in peace with each other and to live protected. Order is a good thing. Look at any third-world country, and I hope you can see that. If it is OK for me to hit you, break into your home, crash your car or steal from you, then you can't live in peace. We can't have lives of liberty and happiness with no rule of law, or order. That would be a life of fear and anxiety.
Fact: We do live in a wonderful country. It's amazing, and if you have traveled at all, you know exactly what I mean.
But, reality is this: simply trying to believe that evil doesn't exist if we don't want it to, and that by thinking good thoughts, and believing people are good, will cause that wish to be so?  That isn't realistic. It isn't truth. It's just an idea. A thought.
That being said, we all know thoughts are indeed powerful. It's important to think "good" thoughts and to avoid the negative and toxic.  Climbing into a hole, however, isn't the answer. Closing the door while the fire is burning in the front yard, is not going to solve the problem.
So, what's a person to do?
Why….start with obeying The Golden Rule, of course!  Do unto others as you would have them do to unto you.
You can read it here: "Do to others whatever you would like them to do to you. This is the essence of all that is taught in the law and the prophets."
And too—Follow the rules…It's best for all of us.
I end with some words that have always been encouraging to me. I hope you find them comforting as well.
Let us not grow weary in well-doing, for in due time we will reap a harvest, if we do not give up.
—Just my thoughts…
S.
Want to receive these to your inbox? Just click here.
And thanks!
January 1st, 2017 by stephanie
There's a jazz song that is titled, "Peel Me a Grape." How do I know that? Because I sang it when I was with the jazz band…many moons ago.
That being said, I had a dream last night—about grapes.  Well, I had quite a few dreams, actually. My mind doesn't usually stop much. But the final dream was of a ginormous cluster of purple grapes. They were the size of bowling balls. Each grape, that is.
When I woke, I was reminded of  a story in the bible. The children of Israel had finally reached the promised land, and before they went in and took the land, they sent 12 spies to check it out. One man from each tribe.
While the men secretly scoured the area, they became increasingly dumbfounded by what they found. 10 of them returned with a negative report They carried on and on about the size of the people (there were giants in the land and cities with magnificent walls). Two of them, however, came back with a very different take. They couldn't believe the size of the produce. To prove their point, they had cut down one cluster of grapes, put it on a pole, and carried it back between the two of them. It was that huge.
Now, I'd certainly love to think my dream was prophetic. That my year will be momentously fruitful…and who knows. It might be. But I am also old enough to know—life happens. And when it does, just buckle up and ride it out. You WILL get to the other side.
That being said, I decided to do some quick research on the subject, and found something interesting about grapes. I was reminded that most grapevines don't produce fruit until their third season. Basically, saying, that grapevine in your backyard that you have been nurturing can take up to three years before you are able to pluck some grapes. Now, be sure to take into account environmental factors and the care of the plant. But those factors? They are: sunlight, well-drained soil and proper pruning. Selah.
So, what's my point?
Perhaps you have had some personal grapevine in your "backyard" that you have been working on of late. Take hope…with a bit of time and great care, you'll see some fruit. Now, probably not like exactly like that species of grapes that came from the land flowing with milk and honey, but then, one never knows. If anything, you'll certainly see something blossom and that will put a smile on your face.
With that, I'd like to wish you and yours a fruitful and productive 2017. May you drink the fruit of your vine, and may your year be blessed beyond measure.
—S.
Want to receive these to your inbox? Just click here.
And thanks!
May 21st, 2015 by stephanie
I have been doing some research of late on the good things that came to certain people—after the pain. For Joseph and Job (famous characters in the Bible) I should say.
Have you ever noticed that Joseph (the one we read about in the book of Genesis), you know the one who was actually sold into slavery by his own brothers?! Yep, that one. If you know the story, after he ended up in Egypt, he was thrown into prison. But, after a few detours, he became second in command to none but Pharaoh. Not only complete vindication, but absolute freedom and power.
We've all heard about the sufferings of Job, too. Yet how many of us recall that "after" the episode of his sufferings was over, he was not only blessed by 10 fold, in each area of his life, he lived another 140 years—giving him time to enjoy it all!
I had to think, first of all, my family has never attempted to sell me as a slave, for which I am grateful, and too, I've never had boils. I will say, I've had my share of pain and suffering in this life and it's never something I welcome or enjoy, or handle that well, it I'm honest. But there is always an "after" party of sorts.
In life, we do suffer. This is a very fallen world. But it's not permanent. The suffering isn't forever, and in truth, neither is this earth. I guess that's why it's so important that we try to "get it right" during the short time we're given down here. Why? Because "up there" will be for a very, very long time.  That place will definitely be an "after party". Free of hurt, agony and more. I welcome that destination. Don't you?
In the meantime, when bad things come my way, I will do my best to remember, I don't have it as bad as Joseph or Job…it may not be great…but it's good. And if I'm patient, I'll get an invitation to that after party—sooner or later.
– Just my thoughts
Stephanie
Want more? We'll send my blog to your inbox. Just click here. And thanks!
March 28th, 2015 by stephanie
If you are just joining us today, don't miss yesterday's post. For the rest of you, welcome back!
DAY 2: Saturday – The Sabbath
Have you ever seen Fiddler on the Roof? If so, there's a scene in there that shows the families of the town rushing home to prepare for Sabbath meal. That's pretty much what Jesus did on Friday. He hurried to get to Bethany, the home of Mary, Martha and Lazarus in time for dinner. And He needed to get there by sunset!
Today, of the Holy Week, would have been the final, full Sabbath day for Jesus. It had started sundown Friday evening and would go through sundown Saturday night for the Jews.
Moment to Catch
The Sabbath would be spent completely resting. And so, we don't find much in the Scriptures that tell us about what He did that day.
With that, it's interesting to note, this was the last day Jesus would have to really, really "rest". But something tells me He spent the entire day teaching…and probably eating. 🙂
Thot for today:
Jesus rested on the Sabbath…do you?
Join us tomorrow, as we follow in His steps…
– Stephanie
Do you receive Stephanie's Blog?
If not, subscribe today. Click here!